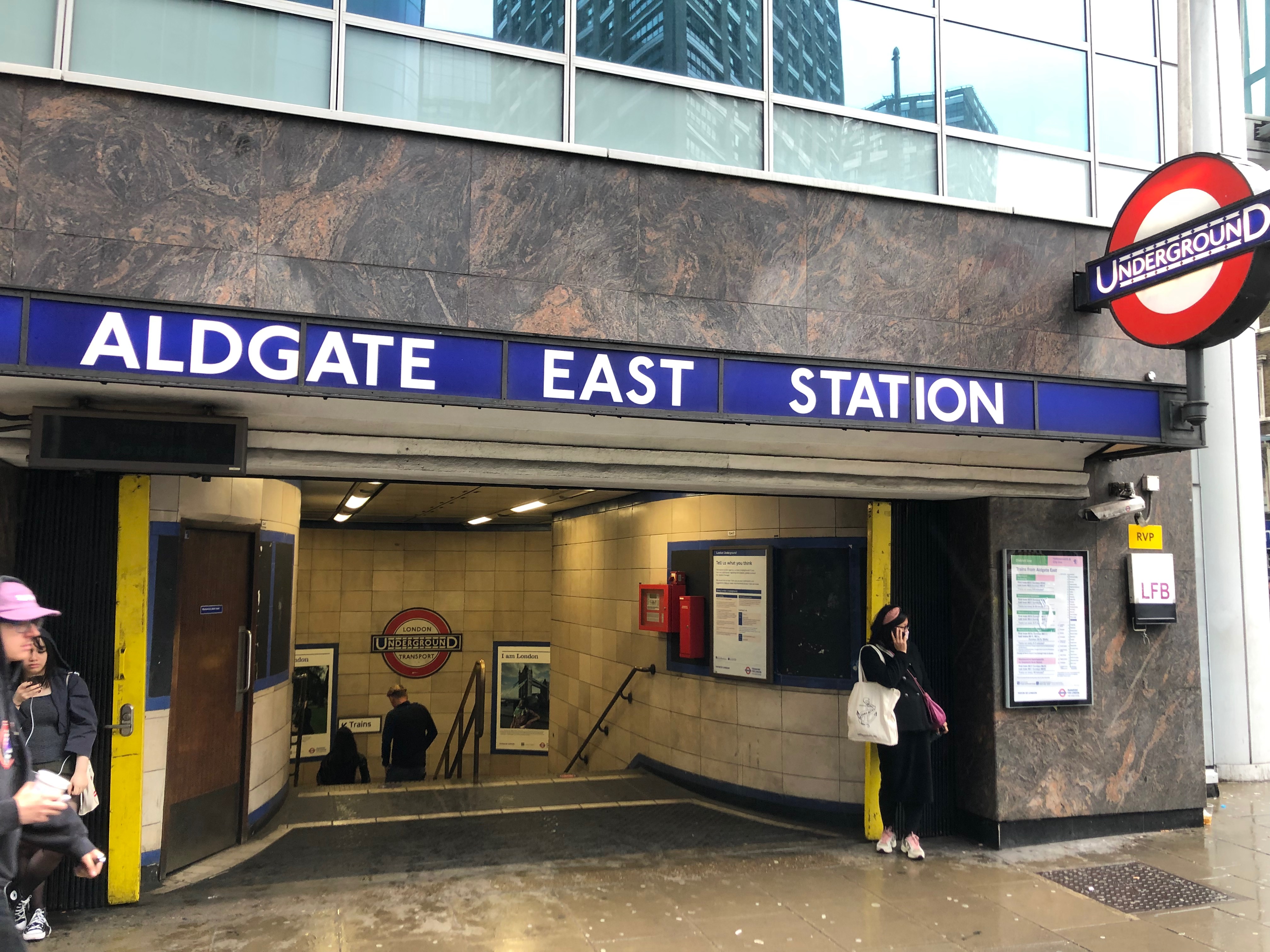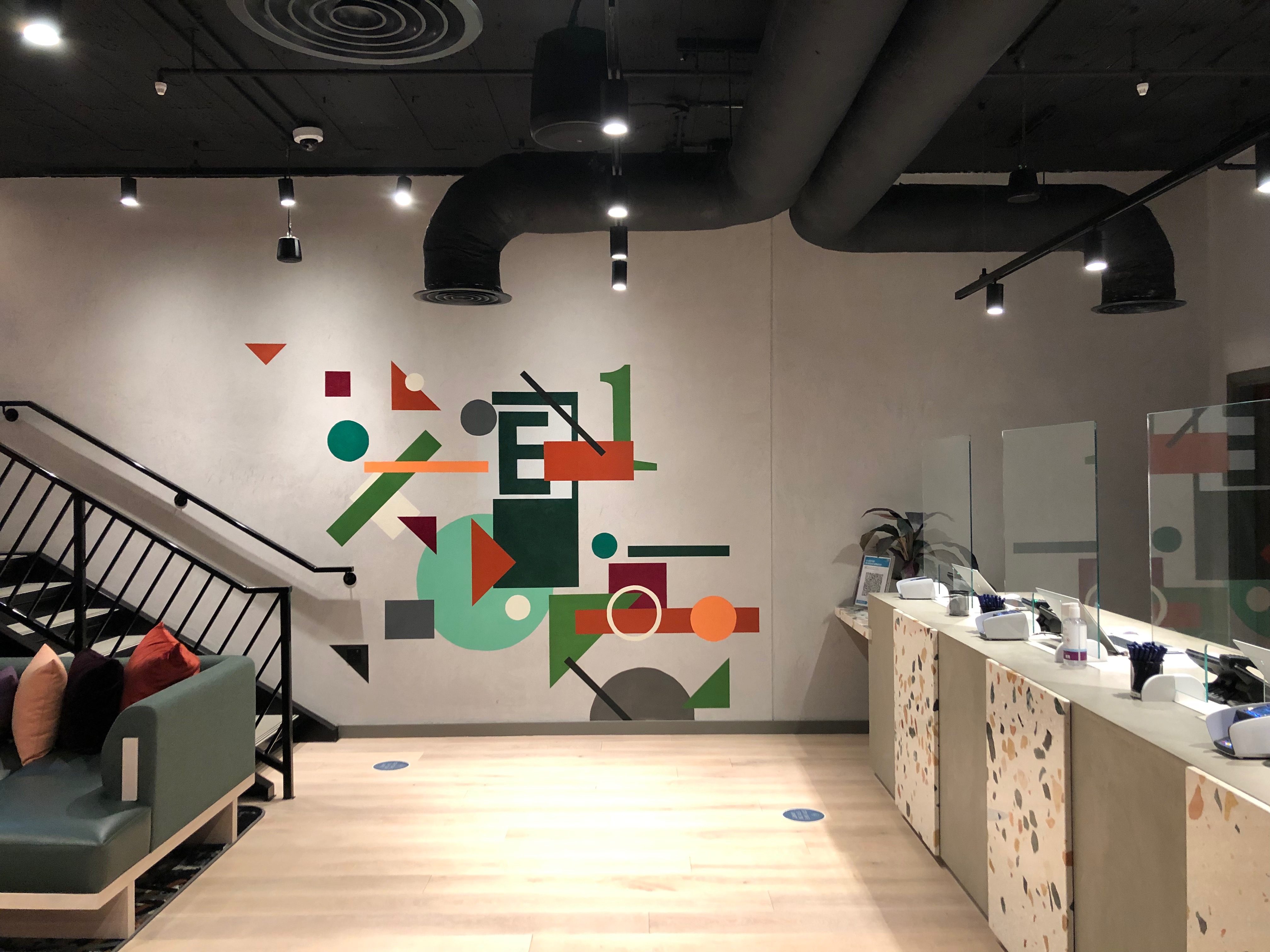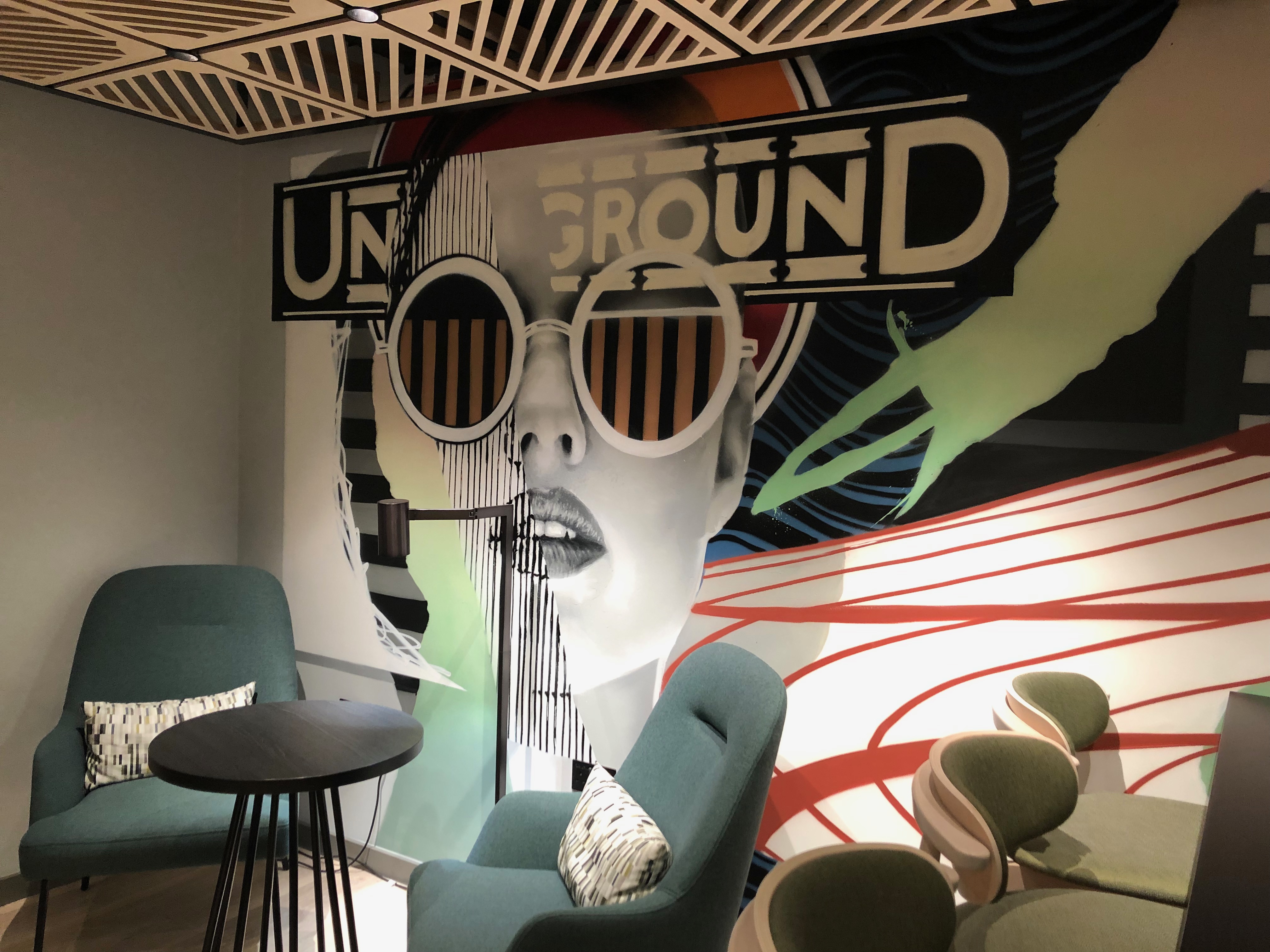 Introduction to the hotel
A few steps away from Aldgate East Tube station, Hyatt Place London City East is in a good spot for a weekend of sightseeing.
The modern, stylish hotel is tall and narrow and obviously had to fit into existing space. The main Reception is downstairs, and the ground floor off the street leads to the lifts with access to guestrooms and Pocket Square, the rooftop cocktail terrace.
Also downstairs is the dining area and a small lounge seating area.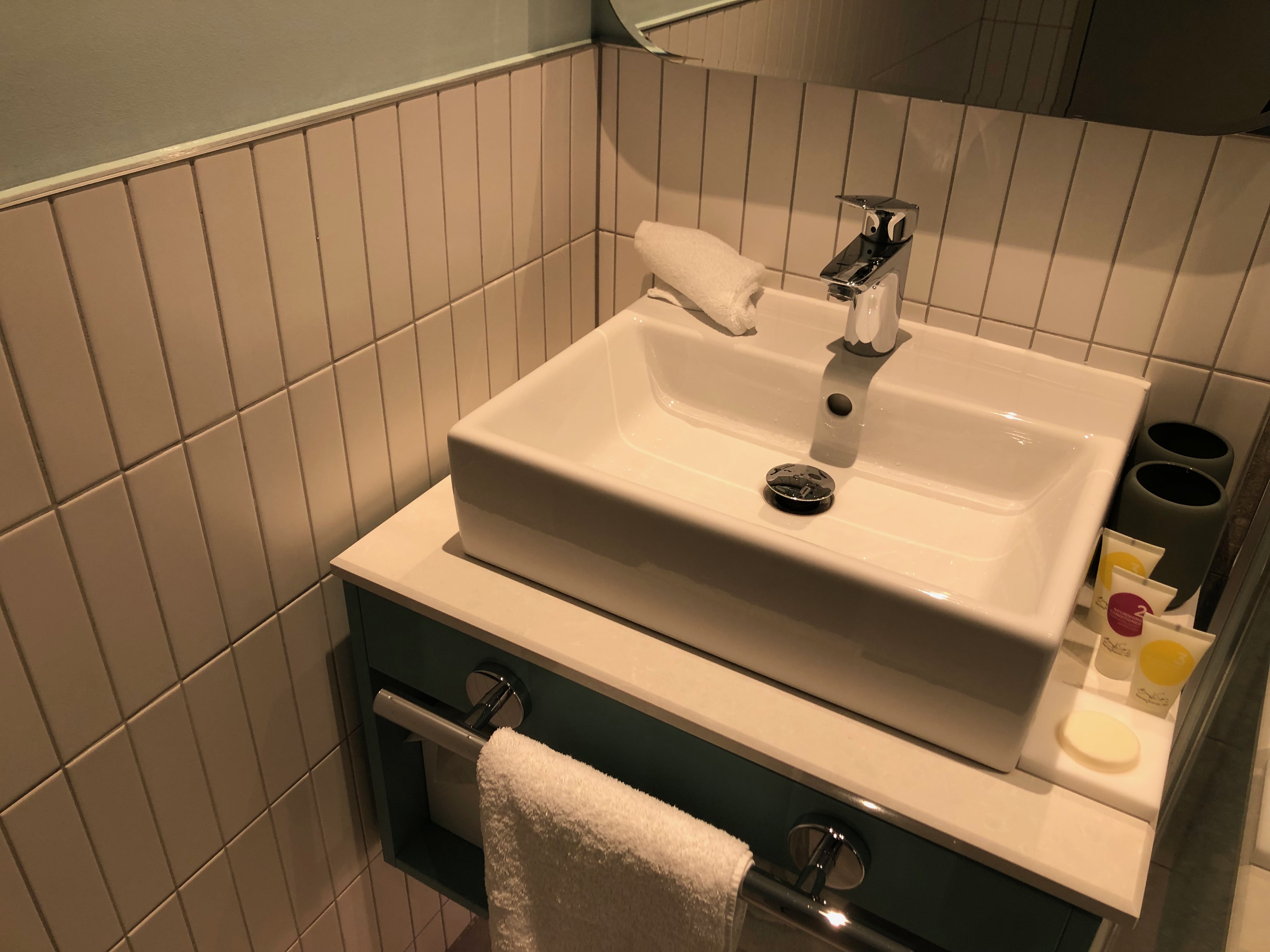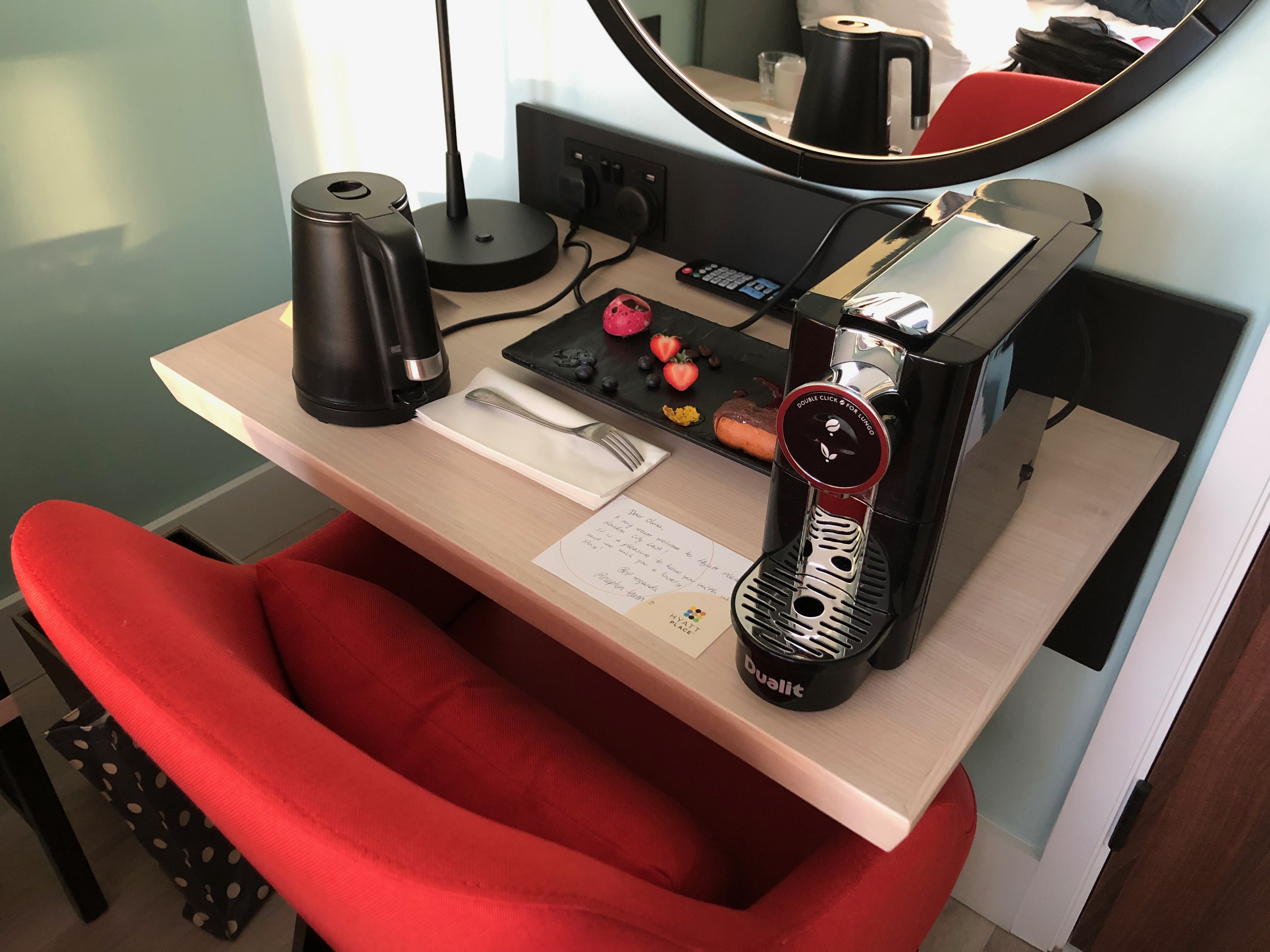 Our room: a bit small for anything other than a few days' stay
Room (808) is on the higher floors and has a balcony with seating and fantastic views over the City.
The bed is a generous kingsize with those soft marshmallow pillows and 'come to bed' vibes. The walls are painted soft turquoise with a piece of modern art displayed. A blonde wood floor and a desk and chair complete the picture. The room was squeaky clean.
An espresso machine and kettle is placed on a wardrobe shelf but has no socket point, so has to be put on the desk. Apart from hanging space, there is little other storage. In the fridge were two single portions of milk. We had a complimentary welcome tray with a handwritten note.
The bathroom has a rainfall shower with pretty matt tiles. There is no room for two washbags and a heated towel rail would be nice.
I feel the massive TV is too large for the room and makes it feel even smaller.
The room is fine for a night or two, but more than that, I would struggle with lack of space and storage.

Perfect Location for East London mooching
Out of the room, things started to look up. The hotel is amazingly positioned for getting all over London. And Brick Lane is a mere few strides away with its curry houses, market and Bohemian vibe.  A few doors down is a good coffee shop and just opposite (down a side street) an excellent  Korean restaurant (Bari Bari) where you can cook your meat at your table.
Pocket Square is a fantastic cocktail bar on the roof, with far-reaching London skyline views, an outdoor terrace and mixologists who really know their stuff. We had a lesson on cocktail making. You can read about it here.

Scrumptious breakfast in stylish space
Breakfast was magnificent. As well as making the most of what is quite often a dull space in other hotels, here it's well designed and local art is used to good effect to brighten things up. Attention to detail includes designer cutlery (Robert Welch) and the best butter on earth (according to my husband) Beurre d'Isigny.
Fresh fruit can be followed by quality yoghurt, freshly baked pastries and several breads, some to cut yourself, with the usual preserves. Hot food was tempting with fresh, properly fried mushrooms, hash browns, baked beans, scrambled eggs, bacon and sausage.  Coffee was from a machine ( but "very good", according to the coffee drinker) and I was able to make my own tea. It was altogether a fine start to the day.
Conclusion:
London hotel rooms are often small. If you don't mind bijou and are going to be out exploring anyway, do consider staying here. It makes the perfect daily sandwich: an excellent breakfast to set you up and then a nightcap at Pocket Square as a fitting finale.
Disclosure:
The stay was part of a prize, and I was hosted for room and breakfast in a superior room.
All images copyright of Olivia Greenway and may not be used without written permission prior.