Why are toiletries important for a luxury hotel?
Some people dismiss hotel toiletries (or amenities) as irrelevant – so long as there is something, what does it matter which type it is?
But I think the complimentary toiletries one finds in luxury hotels are very important – both to the hotel's reputation and brand and to their discerning guests.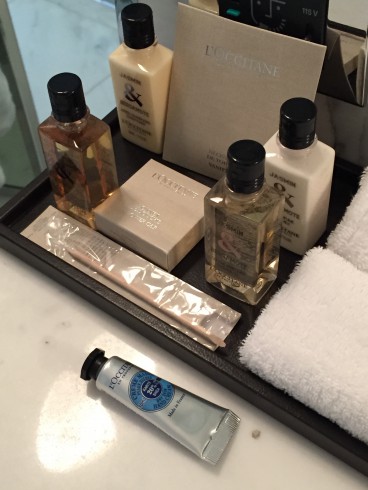 What needs to be considered:
Size. Believe it or not, I once found a five-star hotel that supplied a 20ml bottle of product instead of the usual 30ml size. It was a good brand – found in many a luxury hotel bathroom. But at that tiny size? A number cruncher somewhere in the hotel organisation had decided to scale down. To me it, came across as cheapskate. If I were a paying guest, I'd not expect penny-pinching at this level. It's quite common for suites to have larger size containers of products – 50ml upwards – but they have to be a decent size to begin with in the entry level rooms.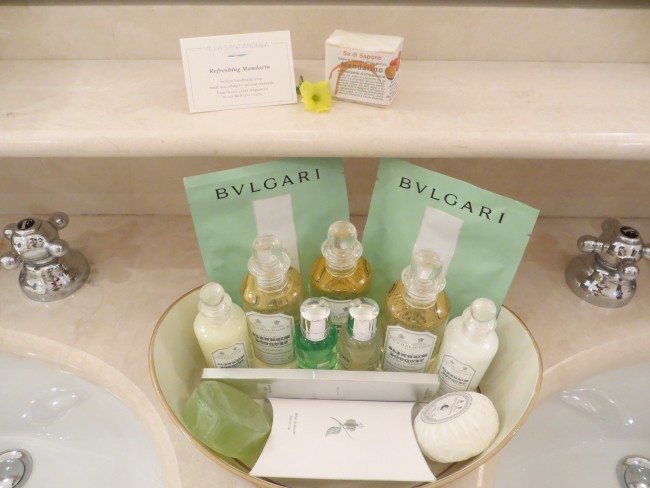 Ethnicity matters too:
If I'm staying in a hotel in France, I'd like French products. Most countries must have an excellent supplier of hotel amenities, so why use one from elsewhere? It gives a sense of place and I think that's important.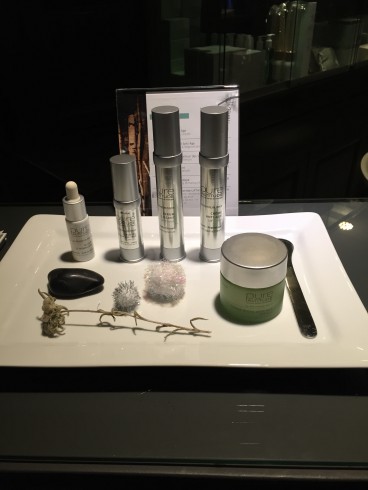 Homemade or made locally:
Fancourt in South Africa had the best provision of toiletries I have ever seen – supplied in a pottery boat – and all made locally. (see featured image)
Full marks to hotels, usually with a spa, where they make their own toiletry products. Examples include Gilpin Hotel in the Lake District and Mcely in Czech Republic. Mcely face and hand products are among the best I've tried. And I still order them online.
Belmond in Sicily (both their hotels in Taormina) have local soap and a little tent card to explain it. The soap (and other toiletries such as bath salts) are kept in beautiful local pottery. These small touches make all the difference. For one thing, it takes away the corporate feel and also shows that someone cares.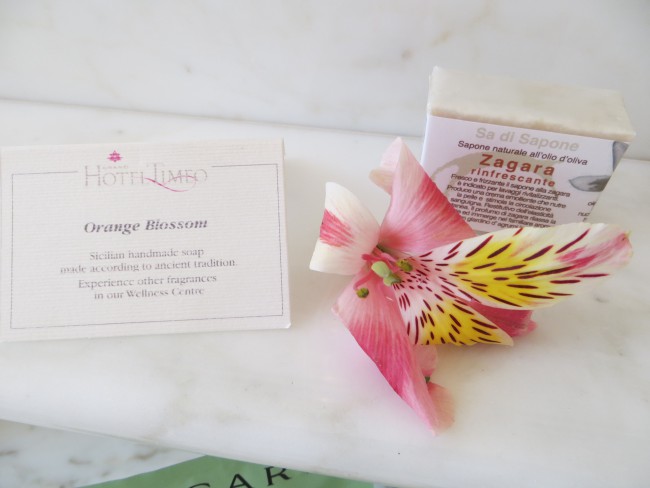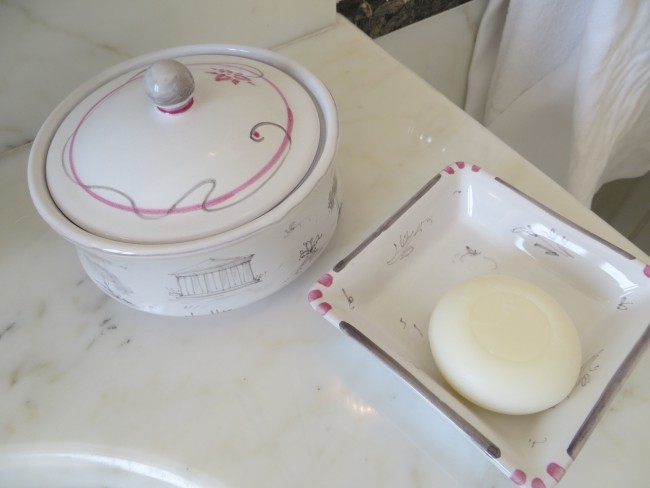 Dispenser or more plastic waste?
Some hotels have very large containers of product with dispensing pumps. These are obviously more eco-friendly, but the big downside is that some (foolish) guests think it's OK to take them home. This sometimes results in large notices advising you of what will happen (you will be charged) if you slip these large, heavy items into your suitcase. If they have similar notices on the fluffy towelling robes, it can feel like your hotel room is a place full of rules, rather than a place of rest and relaxation.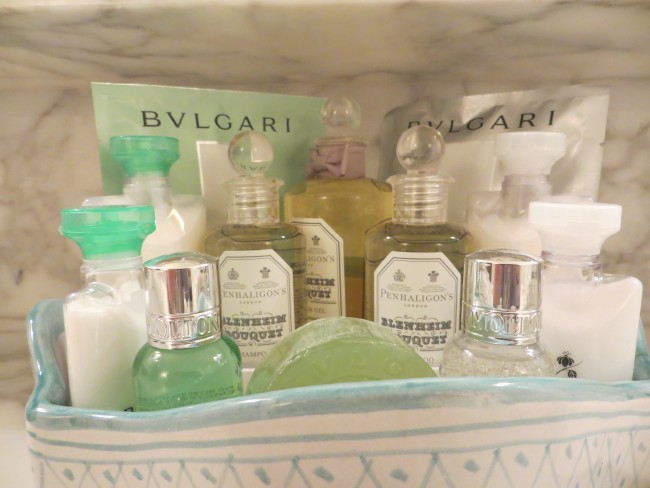 What about the scent?
Some hotel toiletry brands are notoriously strongly scented. Although they are promoted as 'designer' they can come across as a bit tacky.
No woman wants a body cream so strong smelling, it masks her own chosen fragrance.
So scents need to be subtle.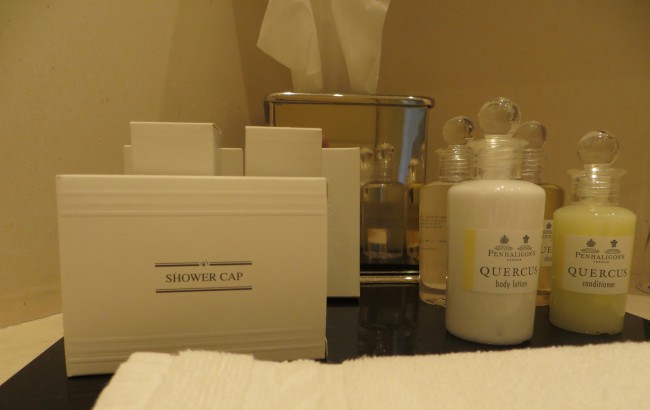 Quality really matters
This goes without saying. Body cream should be easily absorbed and not sticky; hair shampoo should foam and shower product should have a pleasant, clean unisex scent but also foam a little and do its job of cleaning.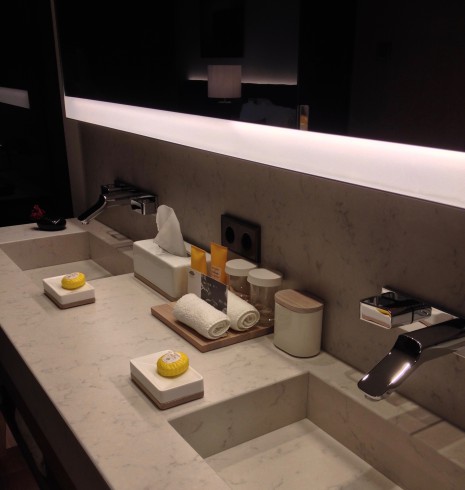 Clear, easy to read labels
The shower is no place to be reading labels. If you wear glasses, it's impossible to tell whether you have shampoo, hair conditioner or shower wash in your hand. Subtle colour coding works well. Or just use really large print to state what's in the bottle.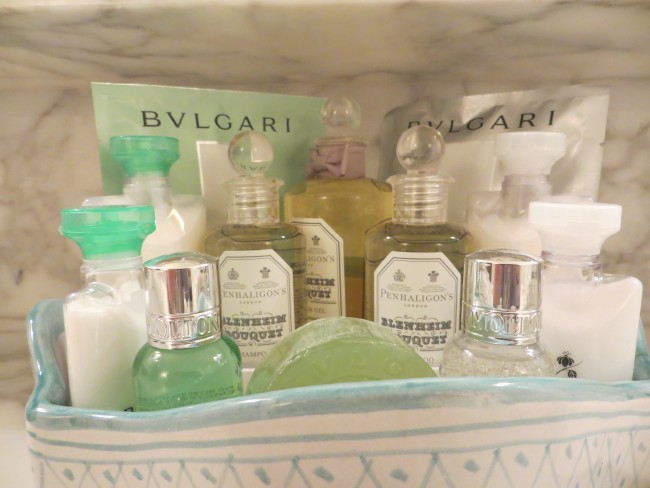 All the products pictured have been found in the 500 or so luxury hotels I have visited and all meet with my approval.
Footnote: I went to have a small operation in Harley Street. "How are you?" asked my husband, when he phoned to see how I had settled in. "They have Molton Brown toiletries in the ensuite," I told him.
What do you think?  Do you care which products are used? Please post your comments below.