"We're going to Giverny."
I was really delighted when my husband announced he'd planned a trip for us to Giverny to see the artist's garden and former home at Fondation Claude Monet. I've always liked Monet's work and I wrote about his paintings and exhibitions of his work a couple of times when I had an art column for an online magazine.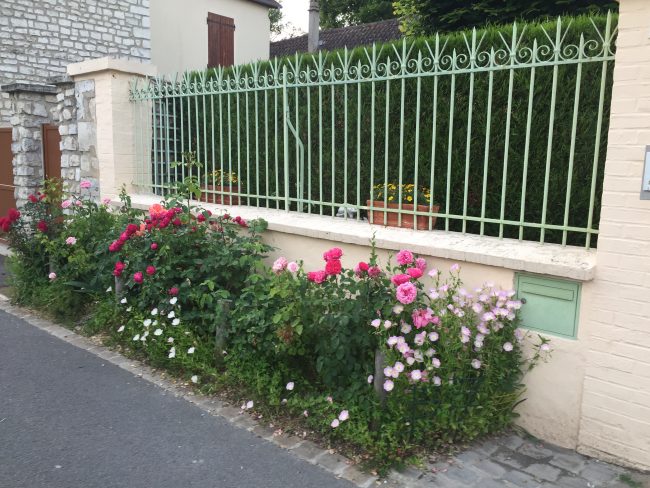 How to get to Giverny
We drove down from London to the Channel Tunnel near Dover. Eurostar would have been nicer, possibly, but I like the spontaneity of the Tunnel. You just decide, book and go. I have to do so much detailed planning in my work life that serendipity is good sometimes. The Channel Tunnel is cheaper if you go for just one night, as we did.  It cost us about £50 each way. We drove in France using the toll roads: total cost about £20, using a credit card.  You can go on the N roads, but it will take you almost twice as long. Calais to Giverny took us about three hours.
Where to stay in Giverny
P had found an apartment right in the village (through booking.com) and a short stroll from the garden. It was perfect, with two bedrooms, a small kitchen and a little sitting out covered terrace at the rear. It was around £100 for the night.  We arrived in the afternoon. We were able to park (for free) a short distance from our accommodation. The Fondation Claude Monet was about a ten-minute walk away. It's vital to book for entry. This can be done online; it costs about £10 per adult.  Leaving it until the day will mean queueing for a very long time and getting caught up in the coach trips.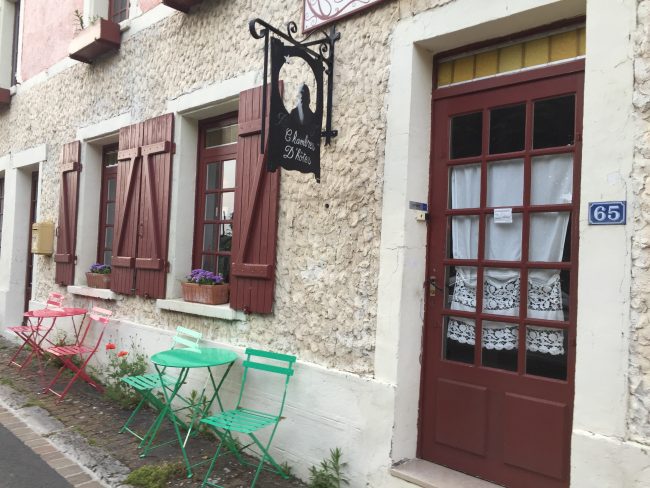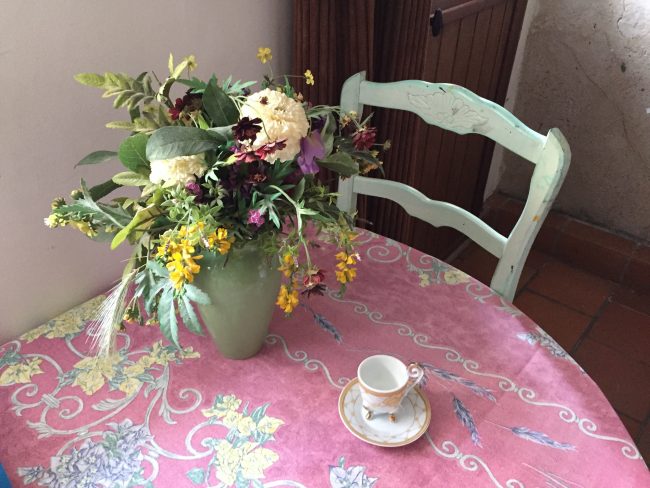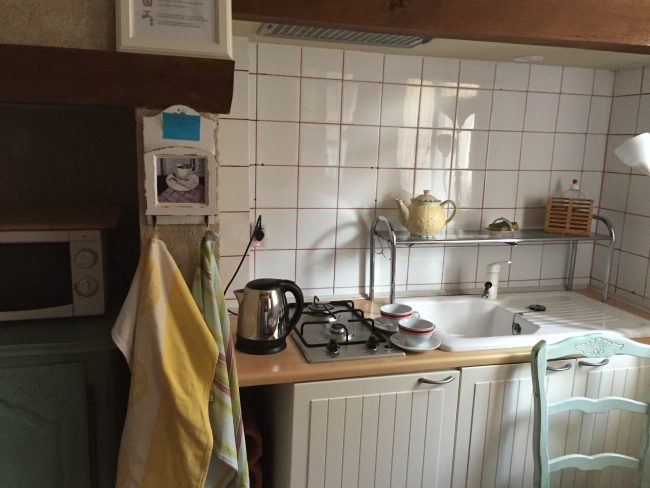 What is Giverny like?
Giverny itself is a delightfully pretty, traffic-free hamlet with a handful of restaurants and cafes and the church with Monet's family grave. Parking in the numerous public car parks near the Garden is extortionate, so our free parking was a blessing.
In the evening, we explored the churchyard with Monet's grave and had dinner in the gravelled garden terrace at one of the restaurants under lime trees.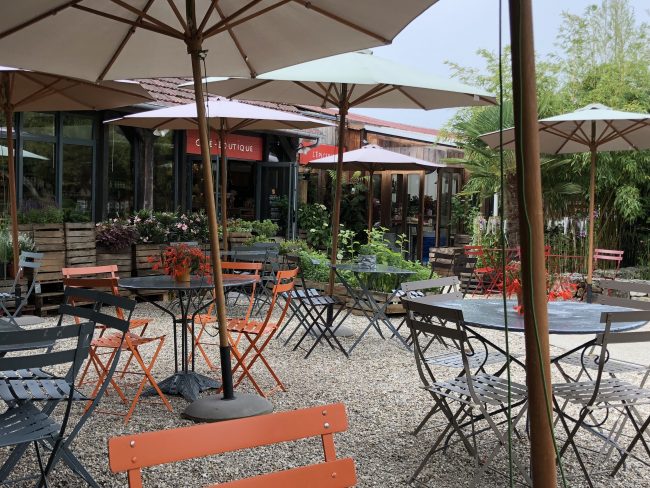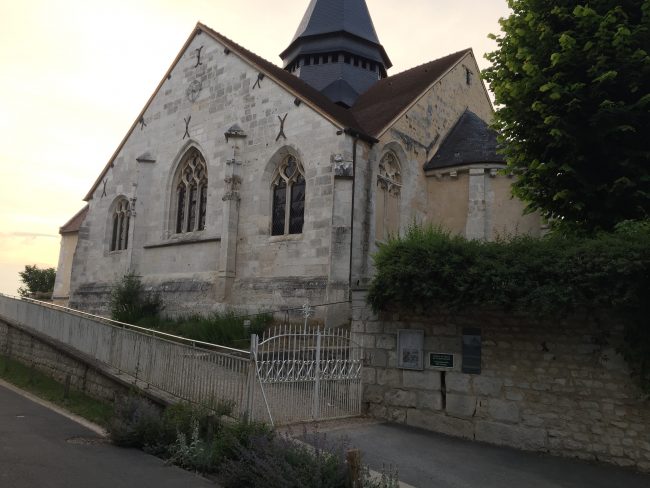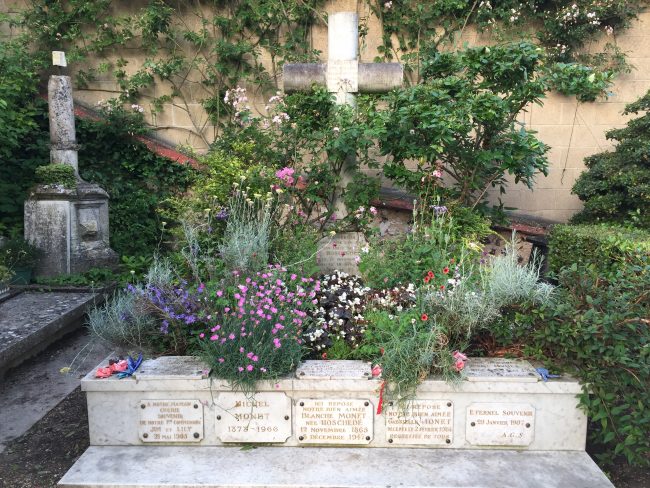 Booking online essential
Fondation Claude Monet opens at 9.30am so we hot-footed it to be there at 9.20am.  Already long queues were forming, but with our advance tickets, we entered as soon as it opened.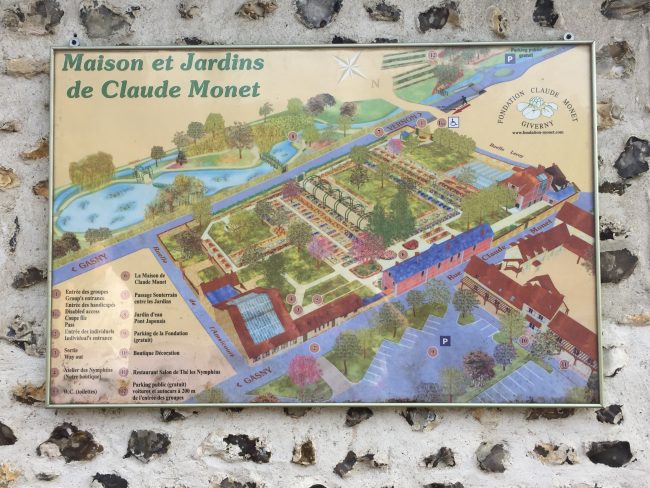 Get there early and head to the lake
The best thing to do is to go under the road tunnel straight to the water garden, beating the coach travellers. We just had enough time to take some photos on the famous bridge before the hordes arrived.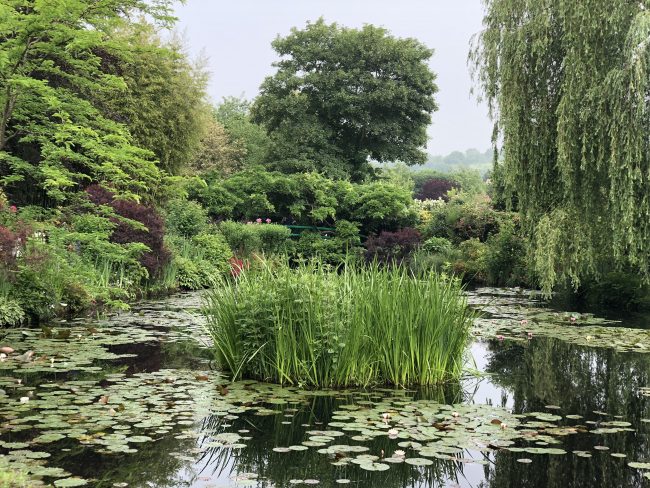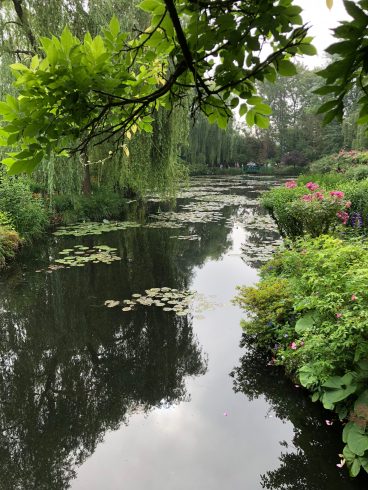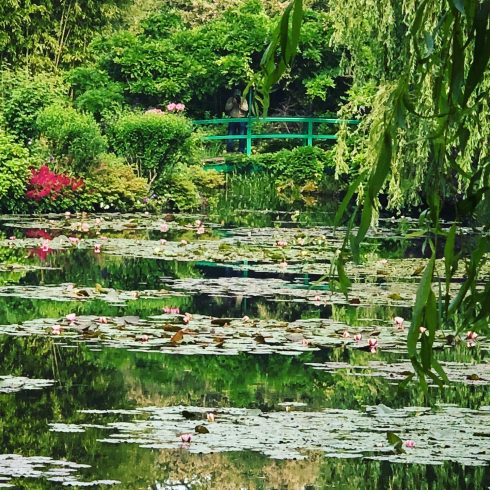 Most visitors go to the main gardens and house when they first arrive, so we did have time to walk around the lake before it got too busy.  When it did, we went under the road again to see the formal gardens and house.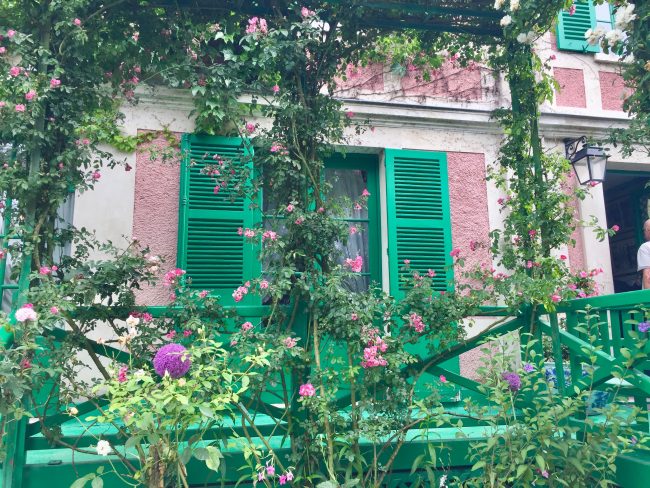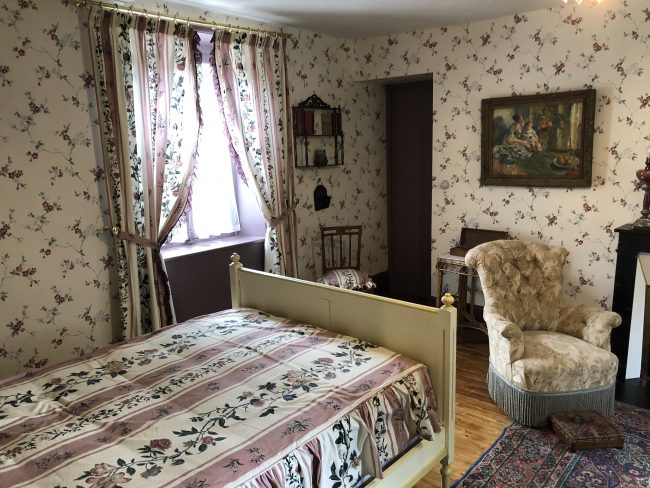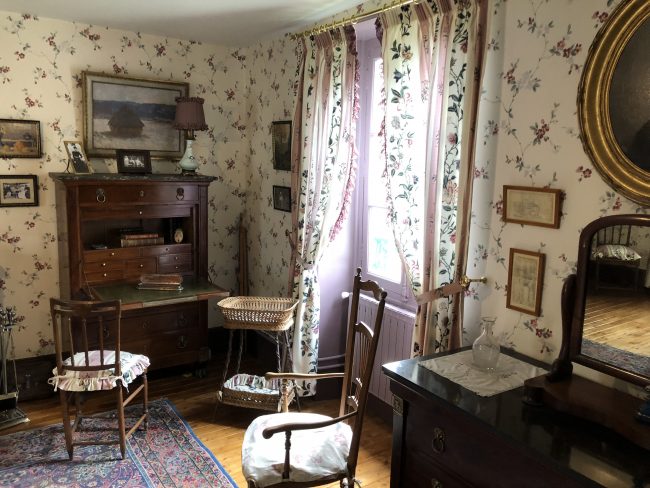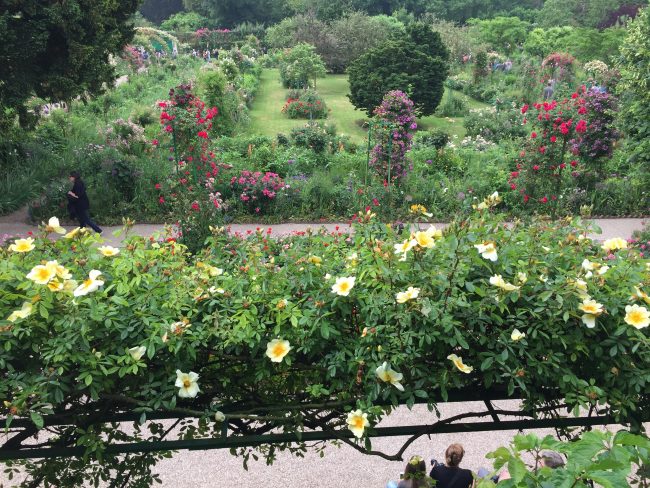 The garden is wonderful, wild in some parts, with flowers I've never seen before. Monet loved flowers; there are few lawns, but yards and yards of beautiful flower beds, mostly flowering and in their prime. (mid-June)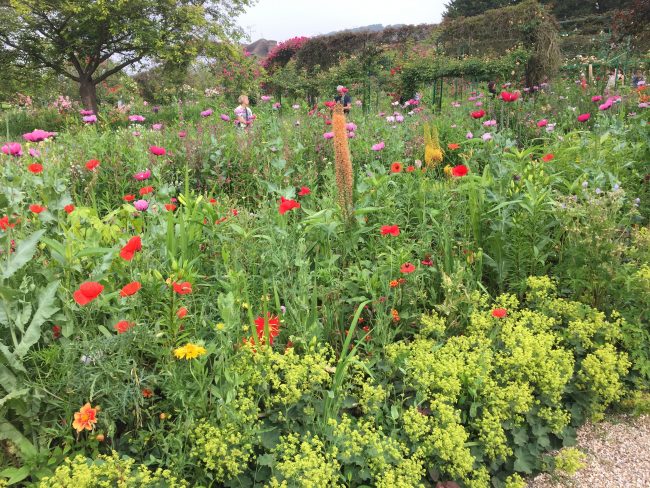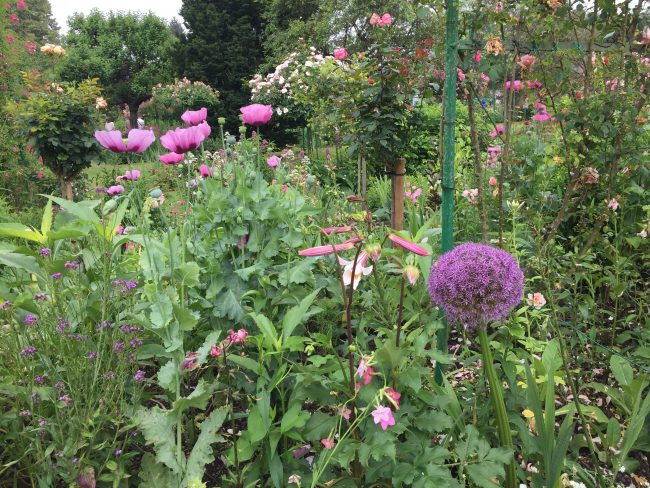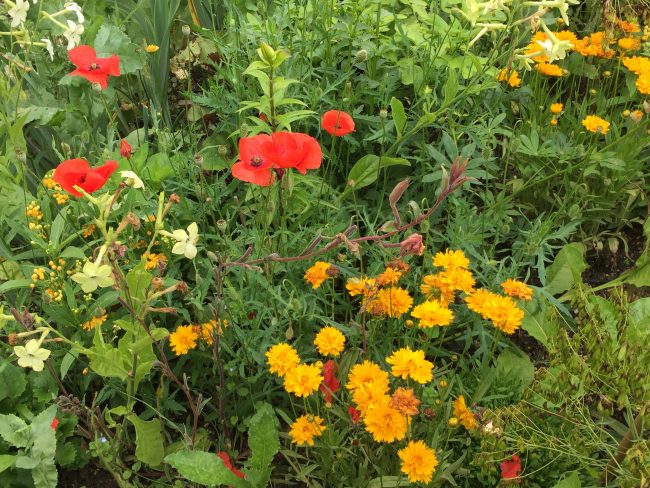 The inevitable gift shop was a bit disappointing – I just bought a magnet – but if you like Monet memorabilia, you'll be in heaven. I think we spent three hours on site altogether.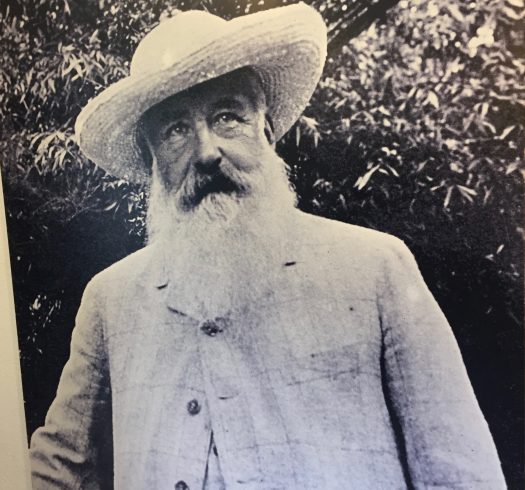 I'
After lunch, we said goodbye to Monet and Giverny and headed back.
Eating en route
I'm vegetarian, so France outside Paris is pretty poor for choice (and maybe hopeless for vegans) but, the French do know how to cook. Although much of the time it was the same dish ­– omelette, chips and salad, they were all very nice. Of special mention was the small seaside café at Étaples called Brasserie de la Canch. Not only did they have alcohol-free beer, but my herbed omelette was served with gorgeous home-cooked fries, a salad of assorted leaves with fresh strawberries and homemade vinaigrette. Tres bien. Talking of the City of Light, Paris is only an hour's drive away, so you may want to incorporate a visit there.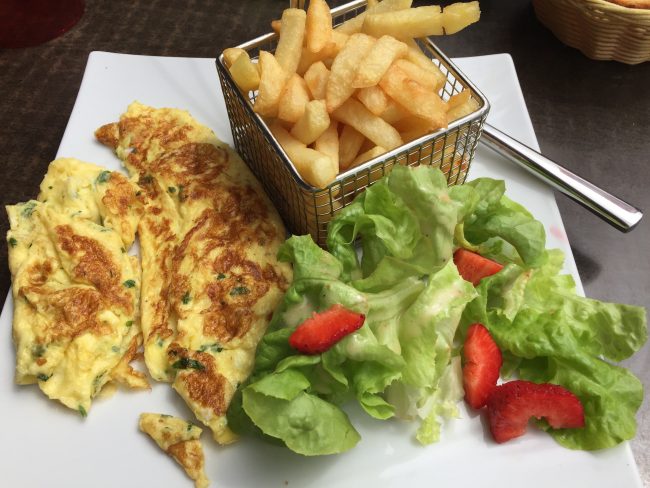 In conclusion
As it is, for an overnight break, I'd strongly recommend a trip to Fondation Claude Monet and the pretty village of Giverny.
Top tips:
book online to preorder your entry tickets
get accommodation with parking in the village
go early on the day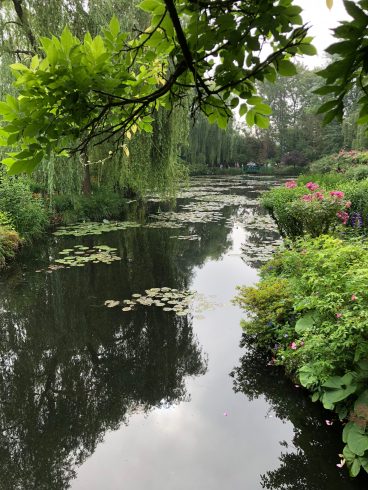 The house and garden are open daily from March to early November from 9.30am to 6pm. Obviously, double check before booking anything as they do seem to have the odd day or two when they are closed.
Disclosure:  A self-funded trip.
Any questions? Just ask in comments.  And have you been?
All images copyright of Olivia Greenway and may only be used by written agreement prior.