Where are the Iguazu Falls?
The Iguazu Falls form a natural border between Brazil and Argentina in South America.
Is it worth visiting the Iguazu Falls?
Iguazu Falls are one of the most spectacular feats of nature I have ever seen.
It's a horseshoe formation of impressive statistics – over 275 individual waterfalls covering a 1.7 mile wide gorge. It's also a UNESCO World Heritage site.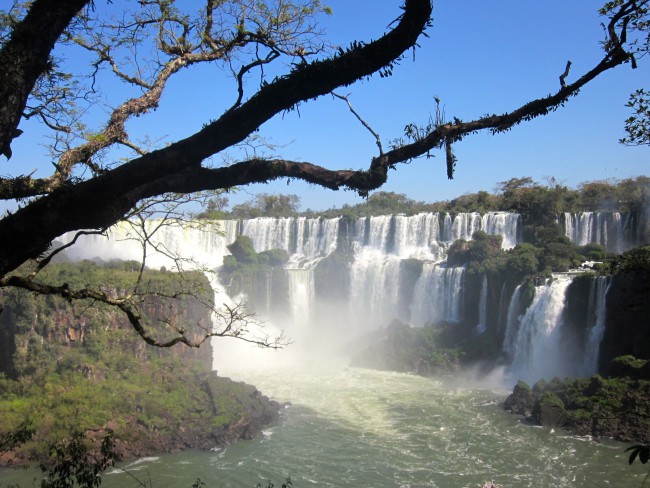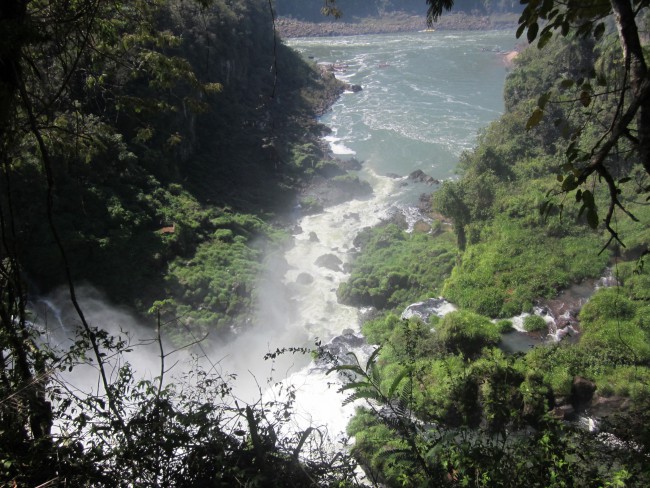 How to get to Iguazu Falls
We flew from Buenos Aires. Flights are relatively expensive but if you are time-poor, it's the only way. You can opt for an air-conditioned coach, but it's a much longer 18-hour journey.
Our trip was a real family affair: my daughter, my son, his wife and me. With my daughter-in-law speaking Spanish and a native of Argentina, we managed to avoid all the hiccups that tourists might encounter, although it should be fairly easy as the park is well managed.
At Iguazu Airport, my daughter-in-law negotiated with a taxi driver to be our driver for the three days. He took us to our jungle lodge a short distance away, would take us to a restaurant in the evenings (although there was one on site) and to the Falls every day. This worked out much more convenient than having to arrange a taxi every time.
Where to stay when visiting Iguazu Falls
There is only one hotel on the site, the top of the range Spanish hotel brand Gran Melia  Even if you don't stay here, go for a cocktail on the terrace to savour the views. Similarly, if you go to the Brazilian side, there is just one luxury hotel, the fabulous Belmond Hotel das Cataratas. It's worth a beer and a family photo. Do remember to take your passport.
We stayed in a luxury jungle lodge with pool that my son arranged.
The first day we settled into our lodge and enjoyed a swim. There are mosquitoes in this area, so if they bother you, bring some repellent.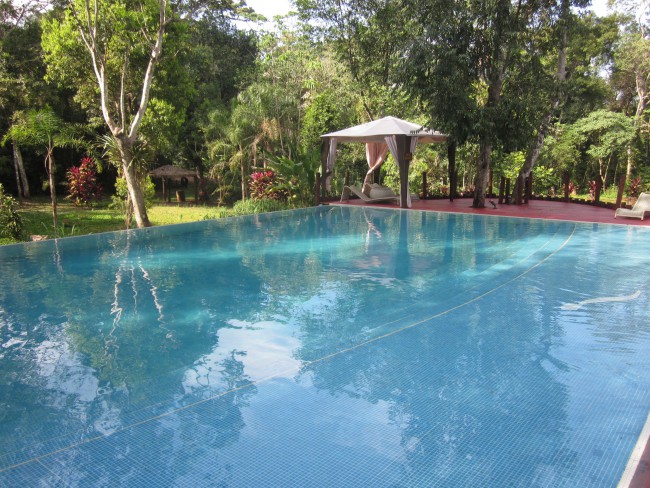 How long to visit?
We were staying for three days, which I initially felt was a bit excessive, but on reflection, it was perfect.
When it's hot, you don't want to rush and we could take advantage of the jungle lodge with wooden walkways above the forest – with lap pool – my son had found for us.
The next two days we spent the morning at the park, with a leisurely lunch each time. You can take a picnic, but watch out for the pesky coati, who will try to steal it.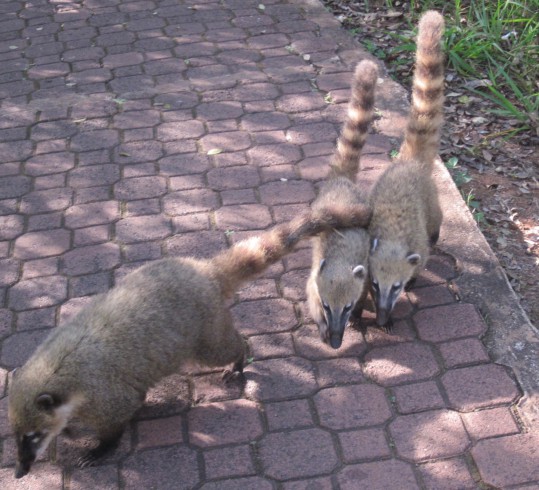 Planning your visit
There are three main walks on the Argentinian side:
The Upper Trail
The Lower Trail and the much quieter
Nature Trail that enables you to identify up to 450 bird species
A free jungle train takes you the short distance to where the two main trails begin.
The Lower trail is longer – around a mile in length – and takes about two hours, with various lookouts and photo ops. If you take a staircase at Salto Bossetti Falls, you will find a small pier and a ferry will take you to St Martin island. This is not always open.
The Upper Trail is shorter – about half a mile – and takes an hour to complete but enables you to get up close to the edge of the falls. The grand finale is the walk to the Devil's Throat.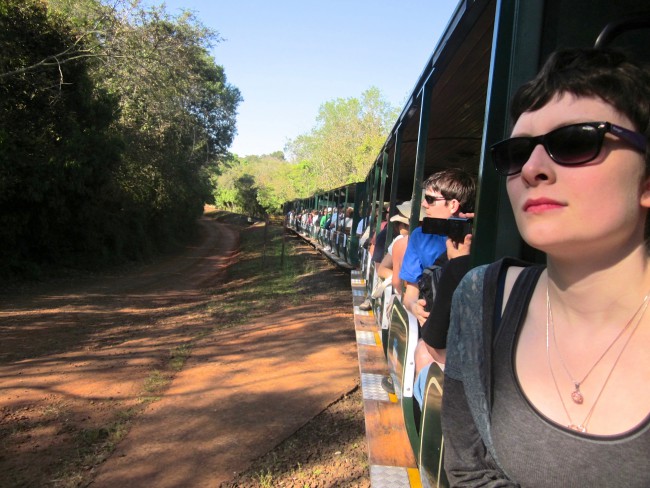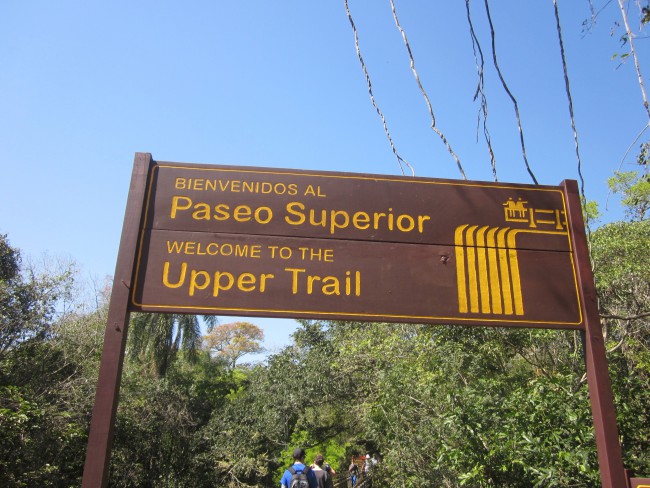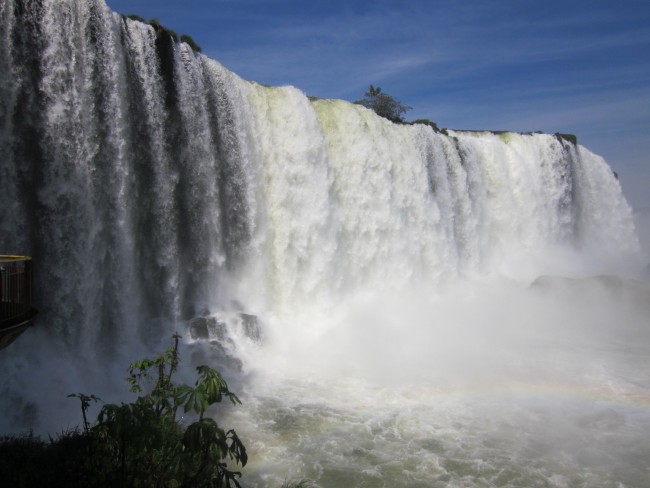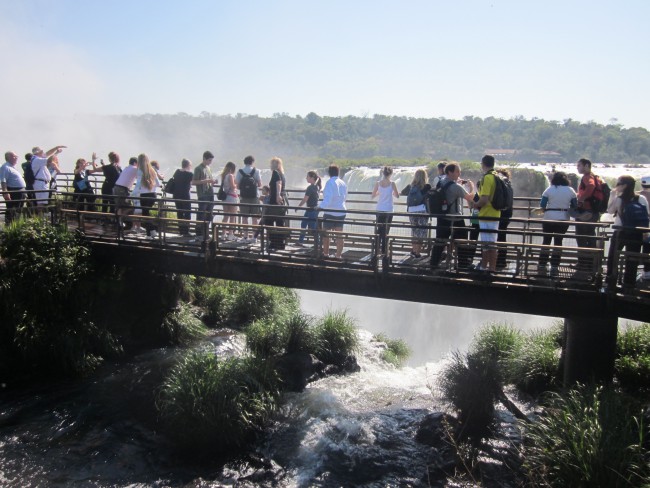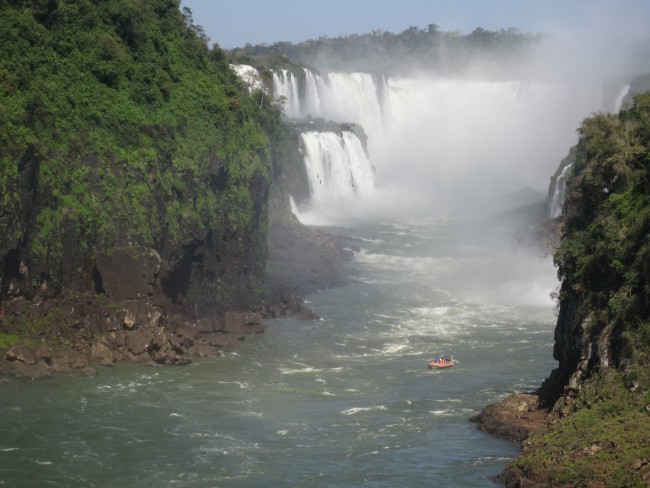 Conclusion:
The Iguazu Falls are definitely worth visiting, especially if you find yourself in Buenos Aires.
The misty photos don't do the Falls justice; you need to be there to appreciate their magnificence.
Disclosure: a personally funded trip. All images copyright of Olivia Greenway and may not be used except by written agreement prior.