A romantic French castle
The British have a love affair with France. Pair that with a secluded 13th-century castle and  – on paper at least – you have a holiday that dreams are made of. It would appear Chateau de Bagnols has it all.
Being the cynic that I am, I felt it might all be a bit too good to be true. It would take more than an old castle, a French accent and over-fussy complicated food to convince me.
A mere 30-minute-drive northwest of Lyon, the castle certainly looked impressive. Hewn from honey-coloured stone, the chateau has a moat (now grassed over) and drawbridge.
The hotel sits in grounds of 12 acres with formal gardens, fruit trees and extensive views over the surrounding countryside.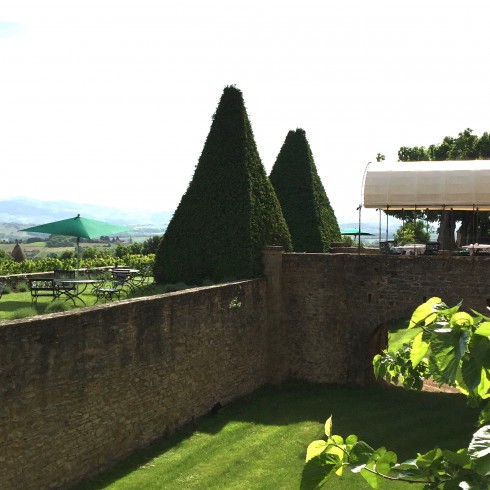 Our suite
Ushered to our room by polite, welcoming reception staff, I did give a little inward gasp when we were shown our room – the junior suite Gaspard Dugue.
Monsieur Dugue was one of the former owners. He bought the castle with his wife in the 15th century and our room was their private chapel.
The bed is positioned at the former altar and behind are original frescos dating from this period. Our half-poster bed had carved and painted wooden posts.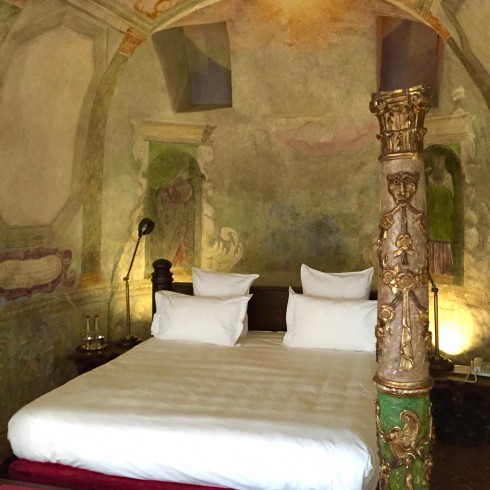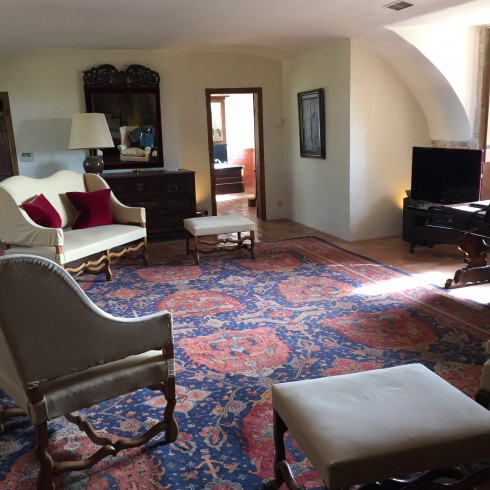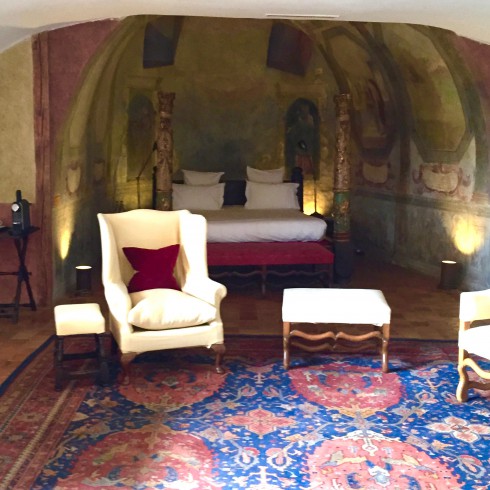 In keeping with the period
It reminded me of a room we had in Siena which also had original frescos of around this period.
It took my breath away to think that someone was using this room four centuries previously, albeit to pray.
With stripped wooden floors, antique rugs, wooden window shutters and simple furniture – two sofas, desk, and side tables – a successful attempt had been made to preserve the historic aspect of the room.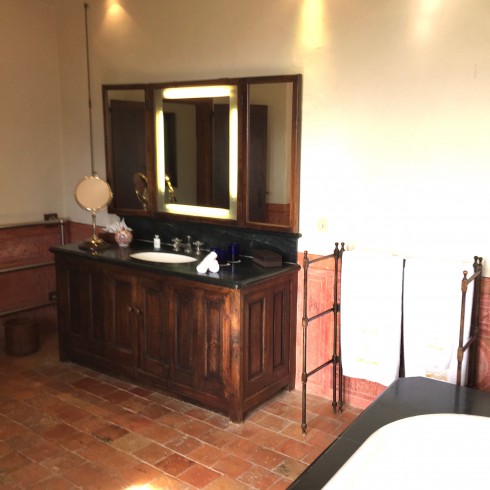 The best toilet ever
Possibly best of all was the bathroom – with the piece de resistance – a toilet set in wood, really resembling a throne. This was a first for me. Snowy white towels had been carefully placed on a 19th-century antique clothes horse. With Bulgari toiletries, one was tempted to immediately run a bath.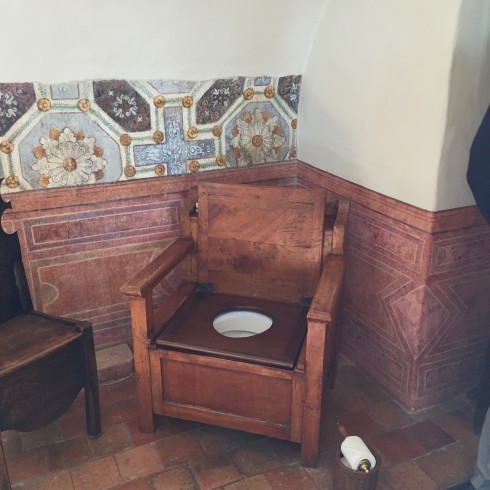 A thoughtful touch
Once I had stopped admiring the bathroom, I noticed we had a separate dressing area with little wooden shelves and ample storage for all our luggage.
A bottle of local wine was waiting for us on a side table with two glasses. Oooh la la…I was feeling a bit mean for my disparaging initial thoughts.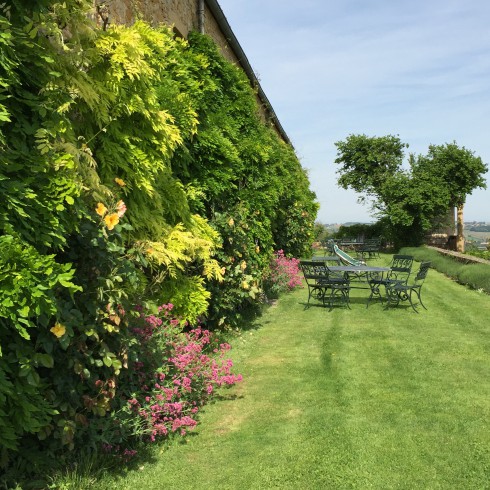 We had dinner in the Atrium, a vast room, in the past open to the elements.  It can feel a bit lonely when there are not many guests staying, but we had a very enjoyable meal.
Breakfast was served here too. I'm not a big breakfast person but there was so much choice – pastries, fresh fruit, cold meats and cheeses, freshly squeezed juice and yoghurts – as well as a hot buffet selection – that big eaters would be satisfied too.
Off the Atrium is a smaller overspill room with antique chimney and then beyond that it's al fresco at pretty tables overlooking the valley, which would be my choice in fine weather.
Library and spa
A valuable feature of the hotel is a low beamed library where you can escape with a book or newspaper, perhaps enjoying a coffee.
Off the drawbridge are the stables, now a modern spa with outdoor heated pool (summer months) and an indoor one open all year.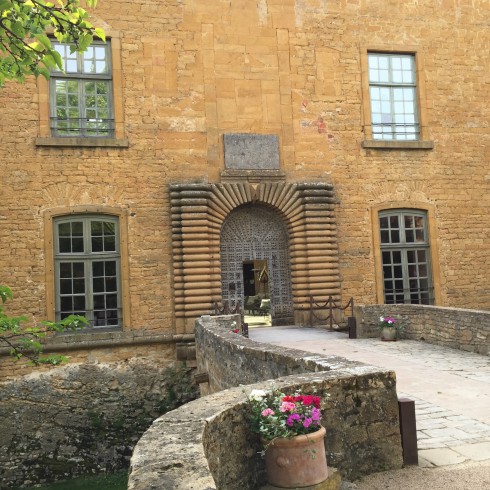 In conclusion:
Being in the middle of seemingly nowhere, we had a quiet night's sleep with only the birds in the orchard below our window waking us. As we dressed, the peal of church bells could be heard in the distance.
The hotel is a good choice if you are en route to somewhere else, but also a good bet if you want to recharge the batteries. Although it had wi-fi and other modern conveniences, if you want to go back in time and only relax, that is perfectly possible too.
The five-star hotel is closed in January and February. Please check for current opening times.
Disclosure:  We had a special rate for our room.  We drove to the hotel from the UK as part of a longer tour.  As usual, all opinions are my own.
Fact-checked January 2021.
All photos are copyright of Oliva Greenway and may not be used without written permission prior.