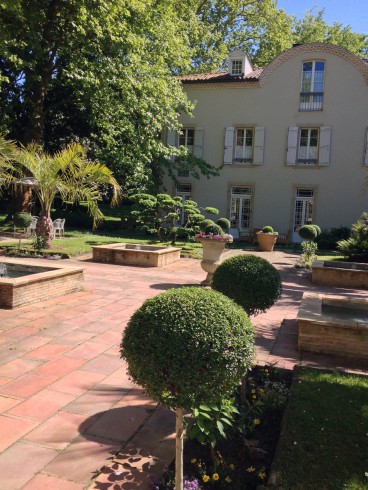 It's only on rare occasions I've been able to enjoy three star Michelin dining and this was one of them.
Older readers will know Michel Guerard as the man who invented cuisine minceur. The idea behind it is that one doesn't have to have a lot of calorie-ridden food for it to be delicious. He believes in food that is light but full flavoured. Still in his kitchen in his eighties, he also came to our table to see if we enjoyed our meal, as he did with everyone who was dining that night.
Marrying Christine in the mid 1970s, over the next forty years, they transformed Les Pres d'Eugenie into the gorgeous hideaway it is today, in the pretty spa village of Eugenie-les-Bains in south-western France. As well as the three-Michelin-starred restaurant in the main house, an accolade Guerard has held for nearly forty years, there is an informal, rustic restaurant in the grounds, a café, small gift shop, teaching kitchen and terrific spa. Set in manicured grounds with fountains and lawns, it really is a delightful place.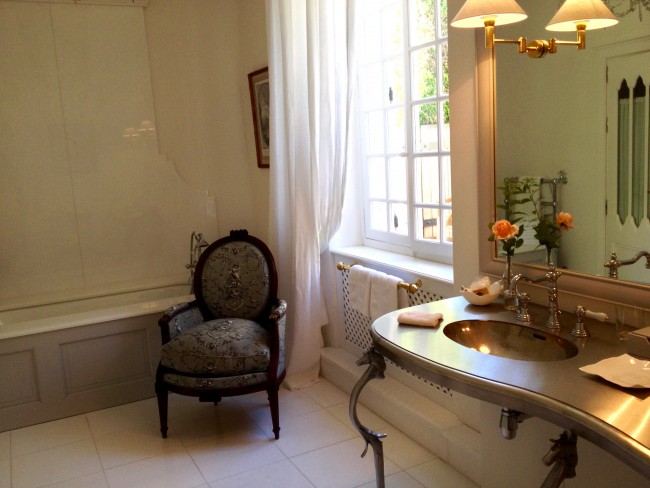 As our car pulled up, someone came to greet us at the portico and proceeded to whisk away our luggage. We were given one of the better rooms – a suite that runs along the whole of the front of the property, with little balconies off three of the rooms. Dinner was a grand affair, with an aperitif served in the attractive lounge beforehand. Guerard's sense of fun is evident on the table however, with fresh rosy apples and a couple of bronze ducks: one is meant to enjoy one's meal and not take it all too seriously. We had the tasting menu and with wine included, it was not a ridiculous price for such superb quality.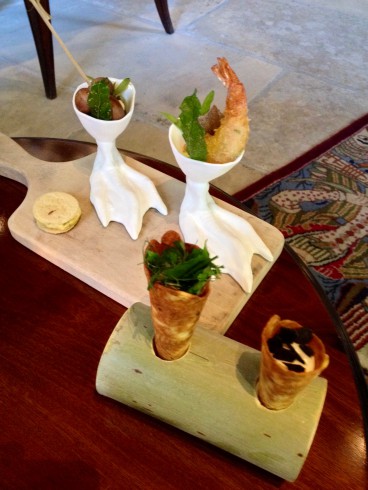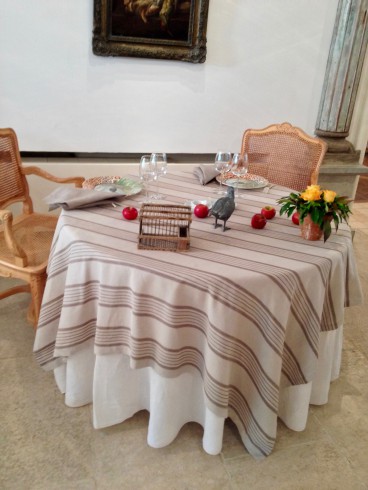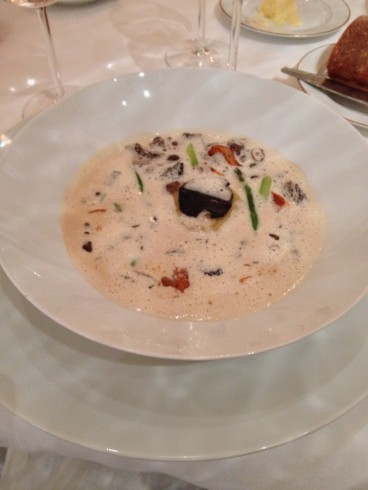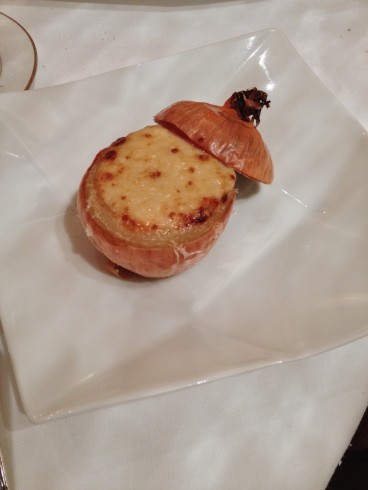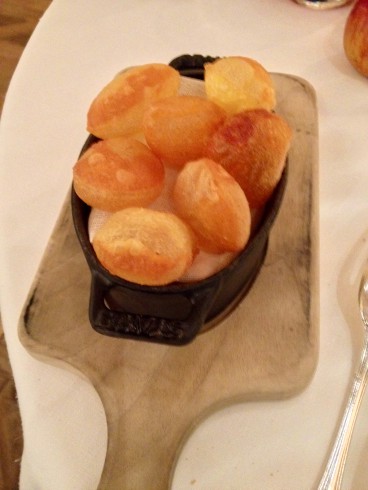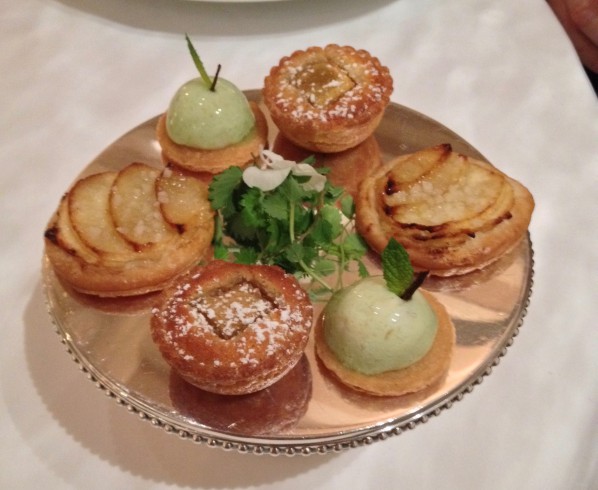 Breakfast brought on a tray was flawless. The best, freshly baked flaky croissants, excellent jam and butter, divine coffee and just squeezed orange juice, plus one of the nicest yogurts Paul has tasted.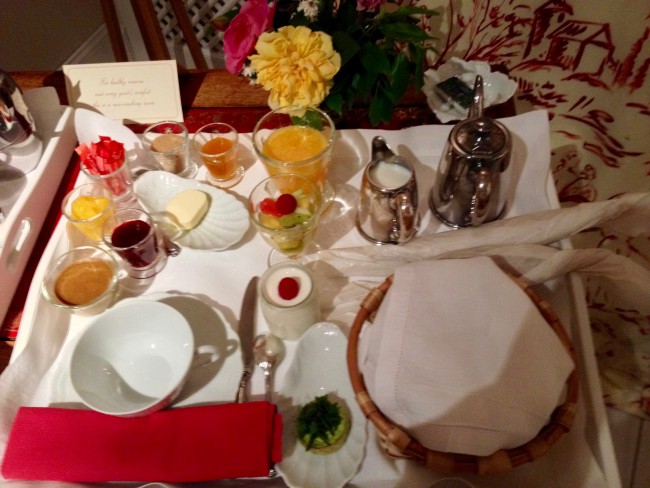 In the afternoon I had a water spa treatment to look forward to. Unlike many spas that are a bit clinical, the spa here has a cosy, country feel – a roaring real log fire in reception, lots of linen robes and a woven basket to store your clothes, ample magazines and a help yourself area with hot tisanes. The downside is, you are in France, so expect ultra chic, stick thin women who look stunning in just a spa gown. I'm not a big fan of water treatments – I've had several of the slightly sadistic variety where large women hose you down and everything gets very wet and is the opposite of relaxing. But it would appear, this activity is taken on my own – I have five different treatments in complete privacy. An assistant takes you to you to the room and will return when you are finished.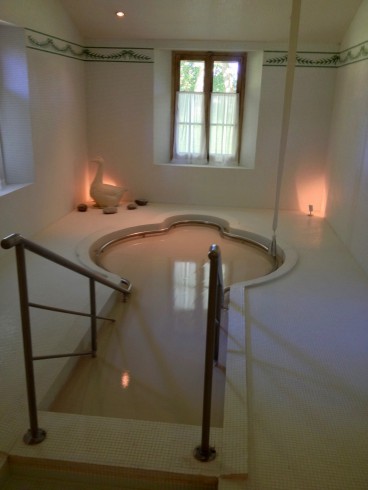 I started off with the mud bath. I think this is one of the nicest sensations I can remember. It's like walking into a warm bath of melted milk chocolate. I couldn't swim as the liquid made me float, but it was extremely relaxing and with the candles on either side I felt I was in my own little haven. When I was finished, I took a shower and my assistant arrived to take me to the next room. There was a walk around a pool with water jets that worked on my leg muscles, a steam room, a warm bath filled with herbs set in front of a blazing fire and another facility that worked on my stomach muscles. After my treatment, I felt relaxed and content and was quite surprised how much I had enjoyed it. The mud bath was the stand out winner though.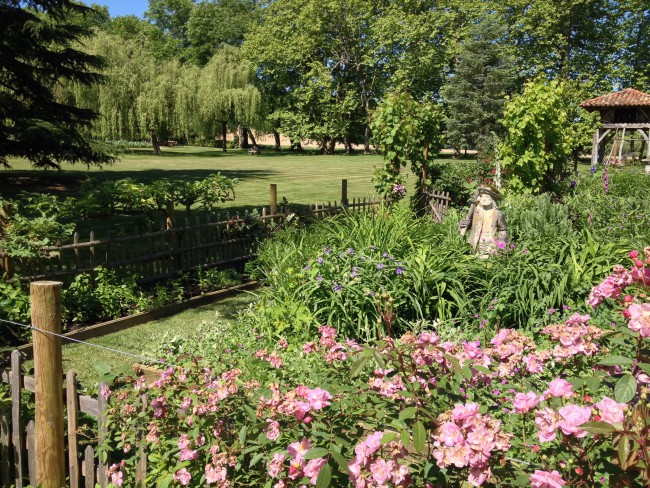 You do have to stay here if you want to eat in the restaurant. For a change from gourmet, the rustic restaurant looked like a good bet. The grounds of the hotel offer many corners to explore and there are bikes to borrow. The village itself adjoins the property and there is enough to do to fill a few hours. This is an unusual, well cared for place, perfect for a very special occasion.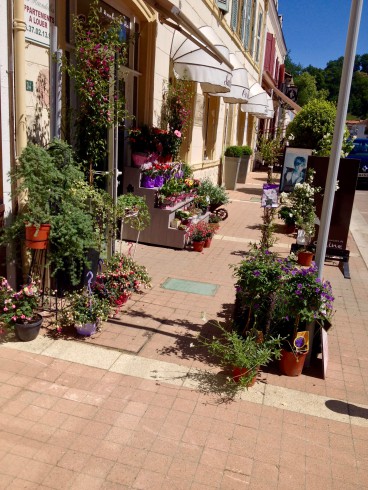 View down the main street in Eugenie-les-Bains
Disclosure: We were given a press rate for our room. The spa treatment was complimentary. We paid for our drinks and evening meal. As always, my comments are the true impressions of my experiences.