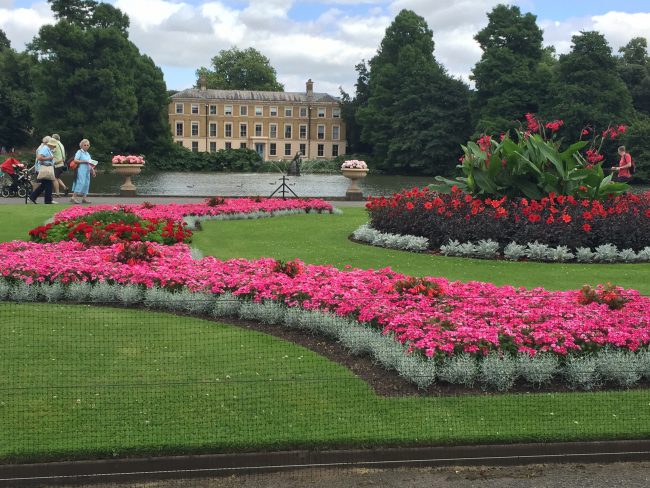 I wrote a bit about Kew Gardens in a feature recently which reminded me we really should visit as it's on our home patch. So today we did.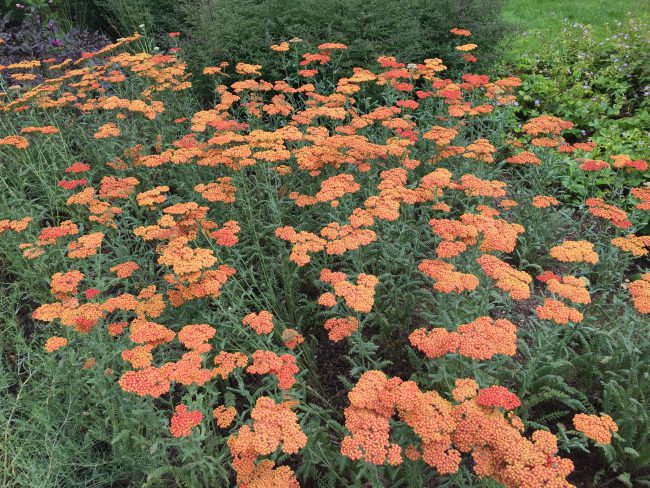 The Royal Botanical Gardens at Kew – commonly called Kew Gardens is a large attraction of 300 acres near Richmond, London established in 1759. It has the largest selection of living plants in the world.
Furthermore, it's a UNESCO World Heritage site and a charity. Although it receives funding from Defra, 45% of its income is from the public purse.
After years of underfinancing, Kew's future was secured (at least for four years) this year with the promise of guaranteed funding.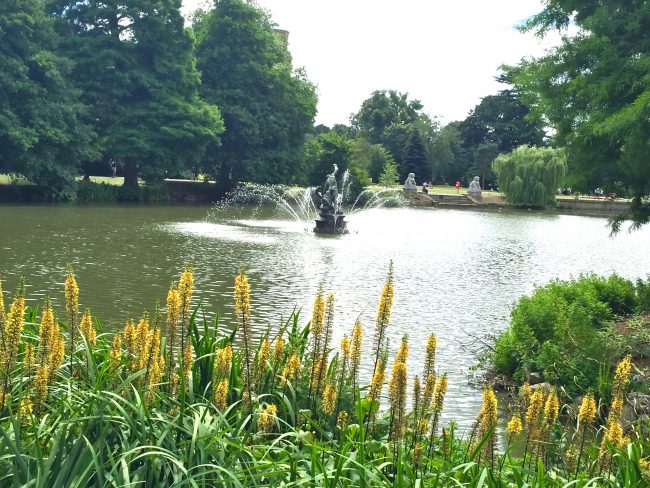 Bearing this in mind, I didn't feel the entrance fee of £15 was too steep. There are small reductions for seniors, students and if you buy online.
The best thing is to go by rail, show your rail tickets and get a 2-for-1 entry price.
You can't get this deal with your Oyster card. The entrance fee allows you to go everywhere, apart from selected exhibitions, that may be extra.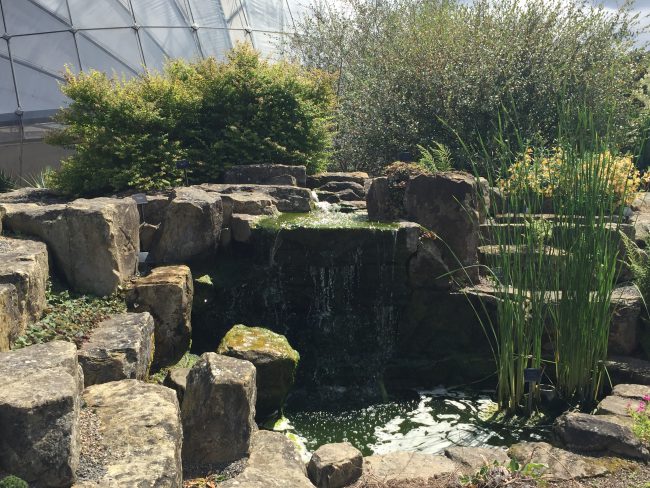 Free walking tours are available until early afternoon – see their website for details.
The nearest station is the overground Kew Gardens but you can get there from Kew Bridge Station and Kew Gardens tube station.
It's about a five-minute-walk from Kew Gardens overground to Victoria Gate. Near the station are a few cafes and a wholefood store, so bear this in mind if it's crowded in the park.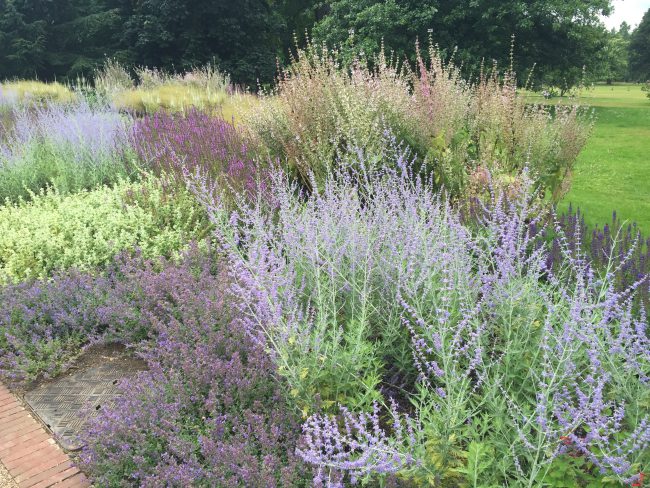 It was a lovely sunny Sunday in the school holidays, so busy. We had to queue for maybe ten minutes. The kiosk will provide you with a free map but we did have to ask.
There's a lot of walking to do, so it's best to pace yourself. There are plenty of benches though if you do get tired. Paths are level and paved, so perfect for wheelchairs and buggies.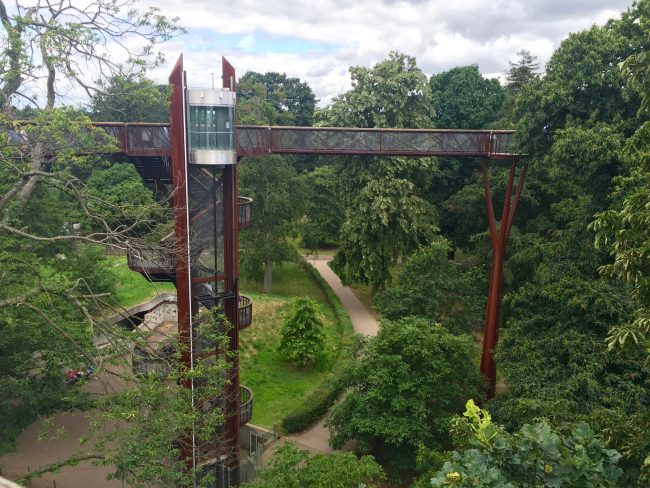 I hadn't been to the raised walkway, so we headed there first. It warns you of 118 steps. I walked up 463 to the Duomo in Florence (which nearly killed me), so this was a piece of cake. There is a lift but the walkway is not suitable for buggies or young children – the sides are high, presumably for safety reasons – so they wouldn't be able to see anything. Naturally the Treetop Walkway affords good views.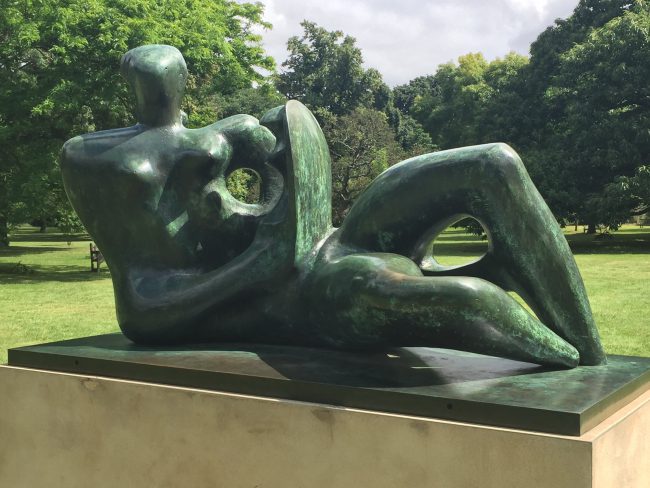 We made a slight detour to see the Henry Moore sculture Madonna and Child. It works really well in this open space allowing it to breathe. A dark green sheen on the metal complemented the contrasting lime green of the grassed lawns and backdrop of trees.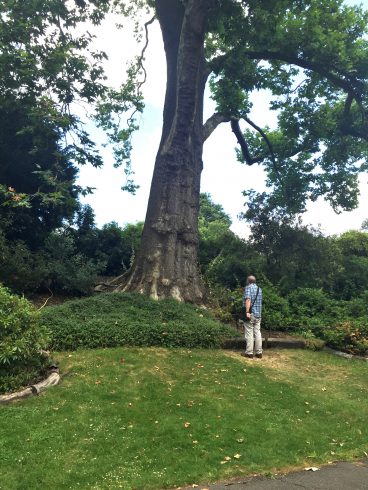 We passed some huge trees, needing a person in the shot to get perspective. This plane tree is hundreds of years old.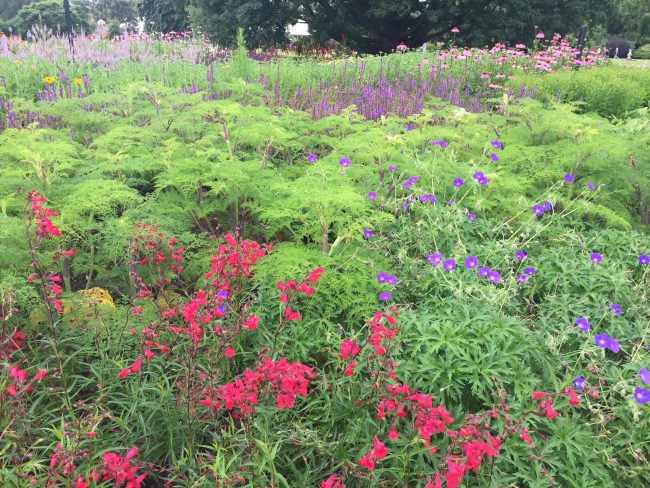 Along the Broad Walk is a wonderful planting of country cottage style flowers, buzzing with bees and a riot of colour.
Not far from here is one of the park's oldest trees, dating from the 18th century.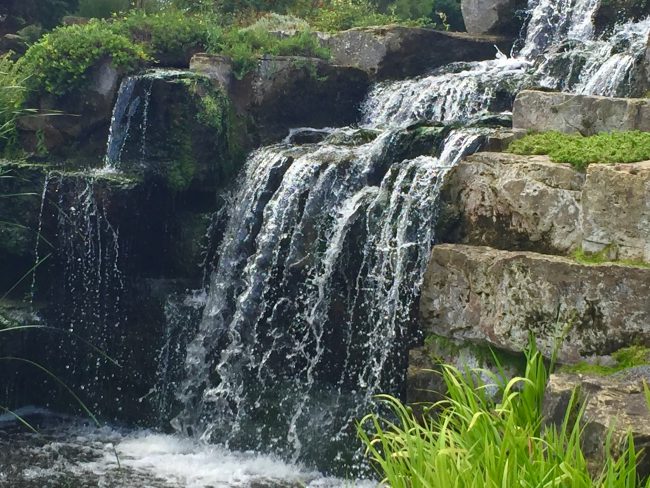 Cascading water from several waterfalls can be heard that draw you in to the rock garden section.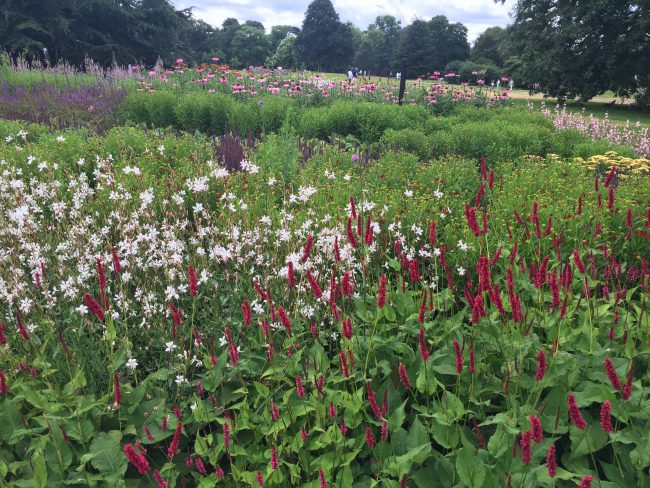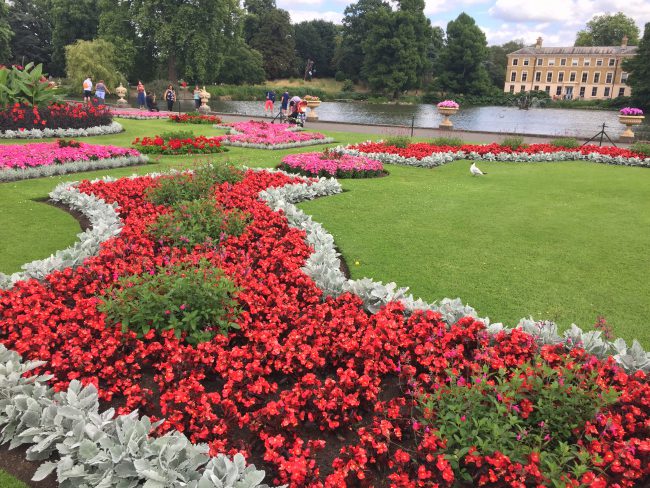 Crossing over the Sackler Bridge, which is more or less in the middle, we then made our way through the bamboo and azalea gardens to a café for a much needed ice cream (£2.80 one scoop) and milkshake (£4).
Is it family friendly?  It's traffic-free apart from the odd mobility scooter and Kew Gardens vehicle, so safe for children. There were certainly a number of families on the day we visited. I think it might appeal to younger children as there is plenty of space to run around and a couple of play areas near the cafes. The water attracts ducks, so if you plan to have a picnic, bring a blanket, as the ducks leave their presence behind on the grass.
The Palm House was crowded so we kept our visit brief, sitting outside for a while to admire the floral displays with water backdrop.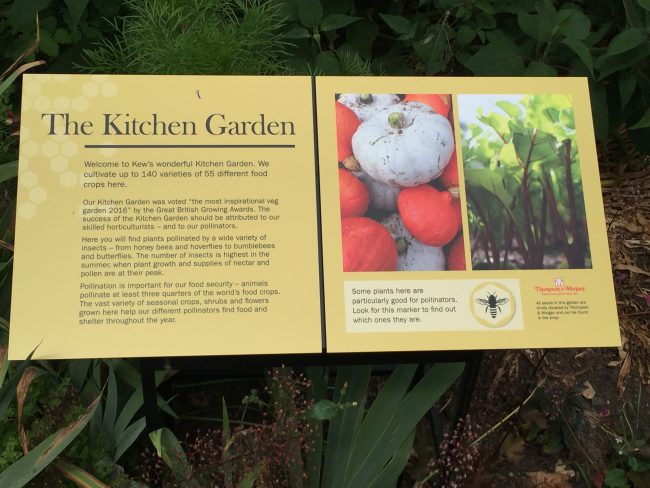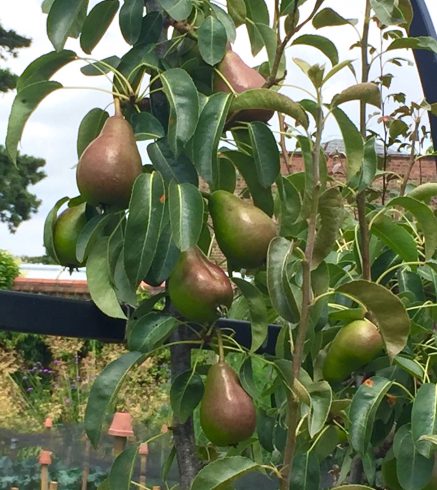 By now we were feeling tired, but I managed to have a quick look at the rose gardens and kitchen garden before we decided to make our way to Victoria Gate.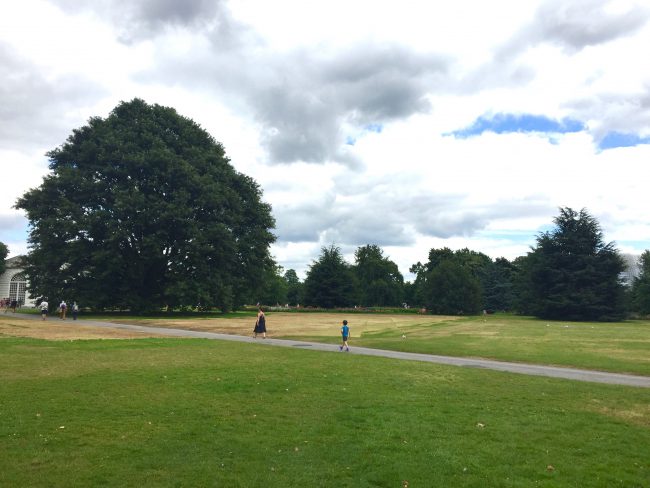 Exit is through the shop. I was impressed with the reasonable prices and quality of the products. In particular, the china mugs, place mats, Emma Bridgewater mugs, scarves and Kew toiletries.
I also used the ladies along the route and it was very clean. In fact the whole park was litter free and well maintained.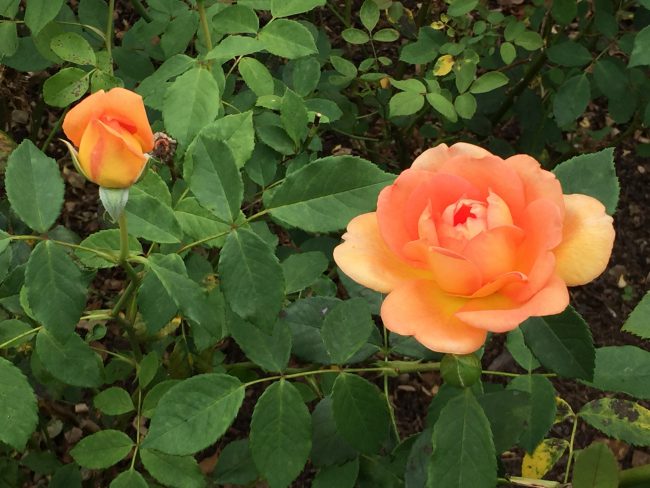 We spent about two-and-a-half hours in the park. If you stayed for lunch, maybe you could see a bit more. As it is, we caught a train to Richmond and went to our favourite café – Butter Beans – for a caffeine fix before heading home.
Disclosure: Nothing to disclose; I paid for everything myself. I was too busy this week to organise a press trip here.
Have you been to Kew Gardens?  What did you think?