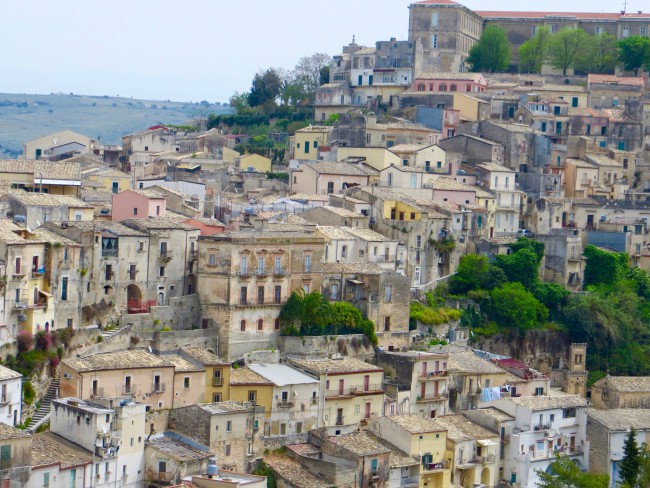 When a travel editor was asking about good places for him to stay in Sicily, I suggested a hotel in Taormina. I could almost hear his sharp intake of breath (although it was on Twitter) Somewhere less touristy? he responded.
That's the problem. Places are 'touristy' because tourists like them and they are generally worth visiting. OK, there are a few exceptions, but I'm not going to get into that debate now. Try as I might suggest otherwise, when my visitors come over from abroad, they insist on the London Eye and Madame Tussauds. All I can do is helplessly give in and just suggest the best times and cheapest tickets.
So it is with Taormina. Yes, it can get busy, but there are two very special hotels here – both Belmond owned – and I think it's well worth a visit. There's a traffic-free main street, Greek ampitheatre, a funicular from the seaside up to the town and lots of places to shop and eat.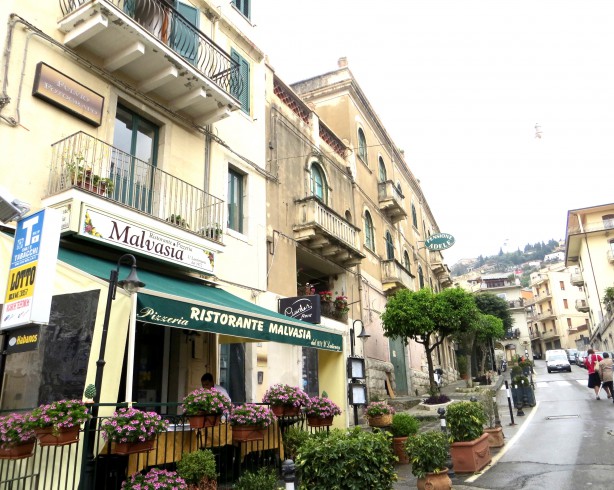 You will probably fly in to Catania and then it's a short transfer. I don't suppose you will drive, as we did (from the UK), but if you want to see more of Sicily – including the non touristy bits, you do need a car.
An area I particularly like is around Ragusa, further south.
I learned to play golf near here a few years ago.   You'll find cheap trattoria, ancient churches and plenty of backstreets to explore. Here are a few snaps to whet your appetite. Sicily (unlike the UK) has a long summer season. Avoid July and August when it's really hot. April and May and September and October are usually delightful.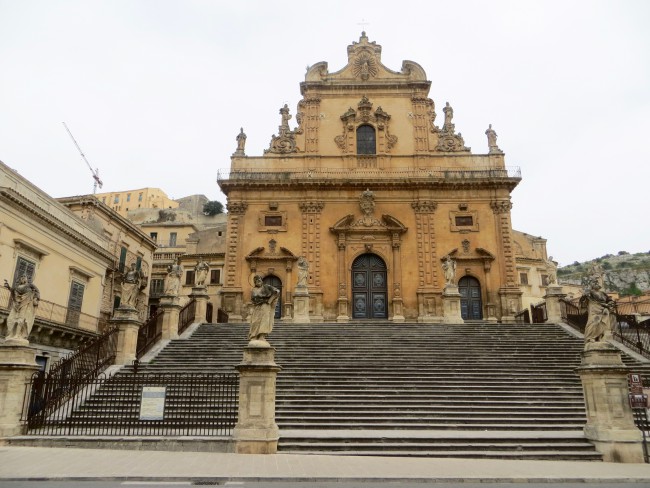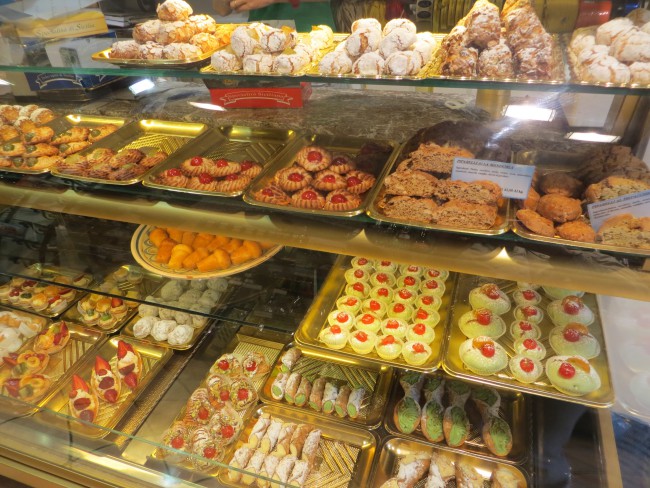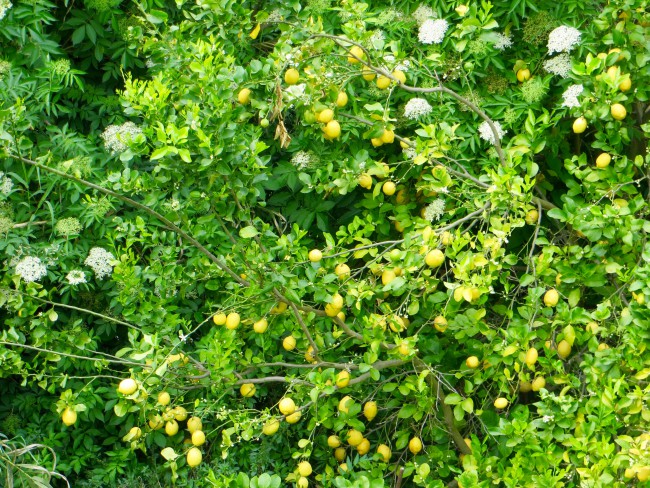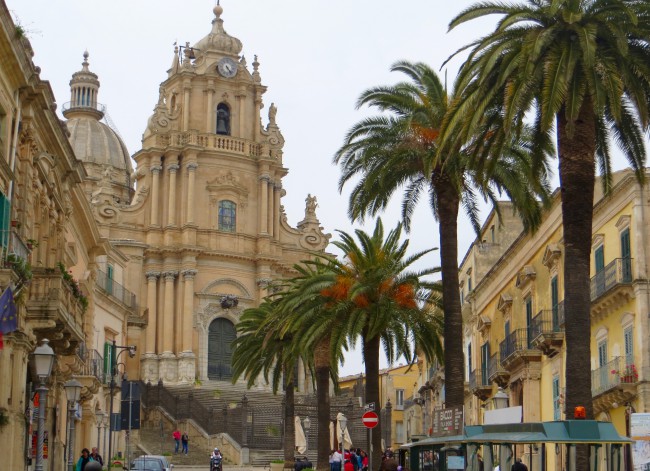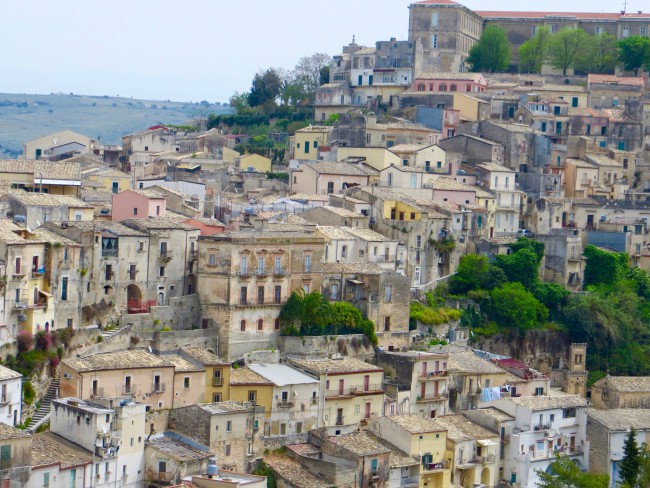 Anyway, back to Taormina. Both hotels are five star rated. Hotel number one is right on the water's edge – Villa Sant 'Andrea. It has its own sandy beach, complete with rock pools. They also have a lifeguard.   If I had a few pennies and young children, this is where I'd come.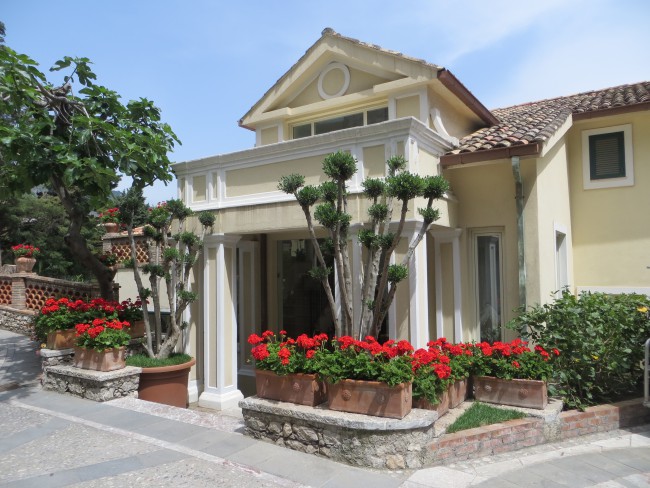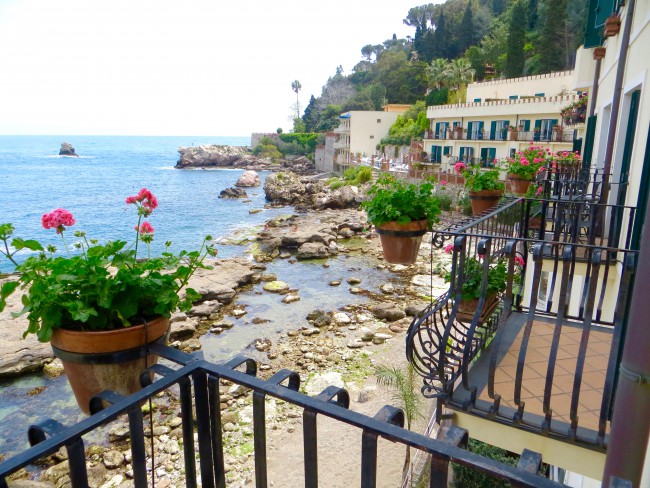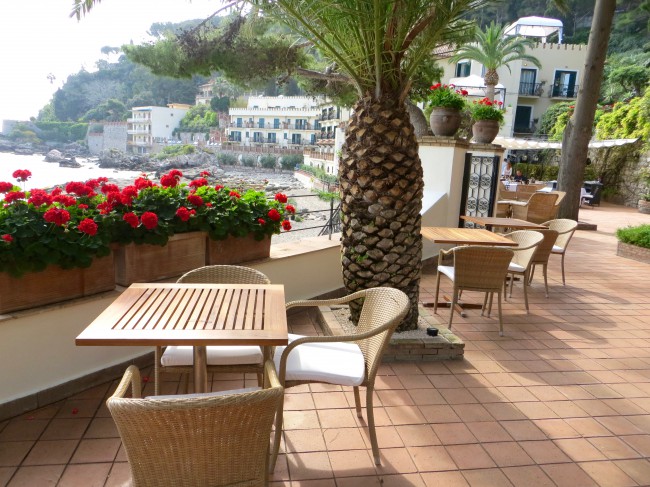 You can sit on the terrace, sipping a cooling drink while your children play on the sand below. Or you can join them and build a sandcastle. There's a rocky bit to the right and then to the left, it's sandy. There is an outdoor pool, but it's a bit small, built around a rocky outcrop, and there isn't much room around it for sunbathing. I think the beach area is much nicer. It's only for guests so it doesn't get too crowded.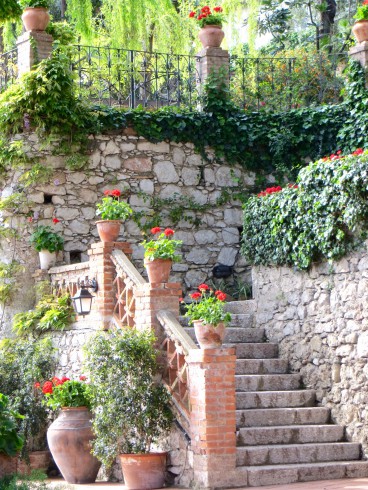 In the evening, imbibe a sundowner on the same terrace and enjoy a meal al fresco if you like. I had a really good facial treatment here, if you feel the need to indulge at the small spa.
Rooms have mostly views of the sea and are spacious and well designed.  I like the Belmond way of having the dressing area with suitcases kept out of the bedroom. We had a sunny terrace with our suite.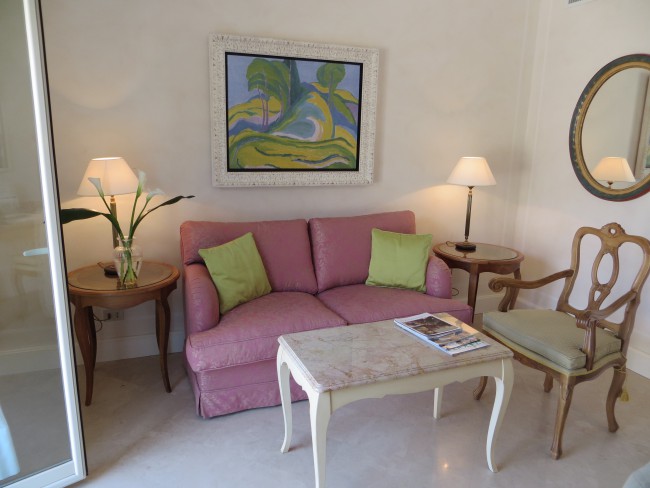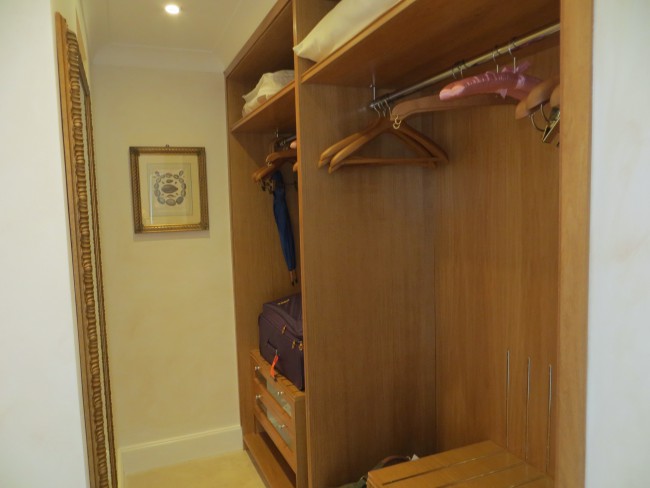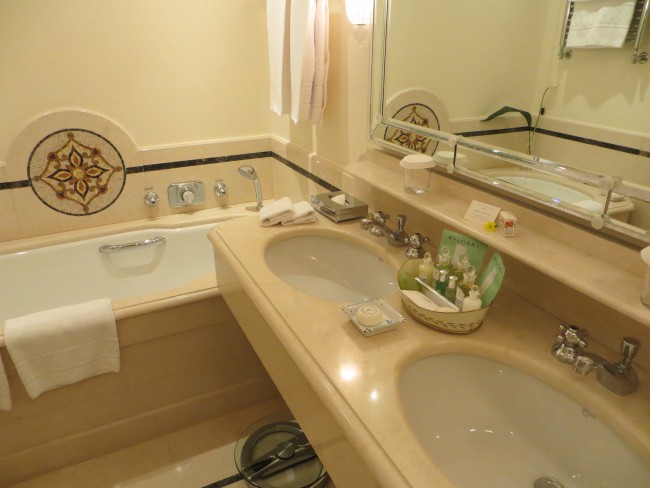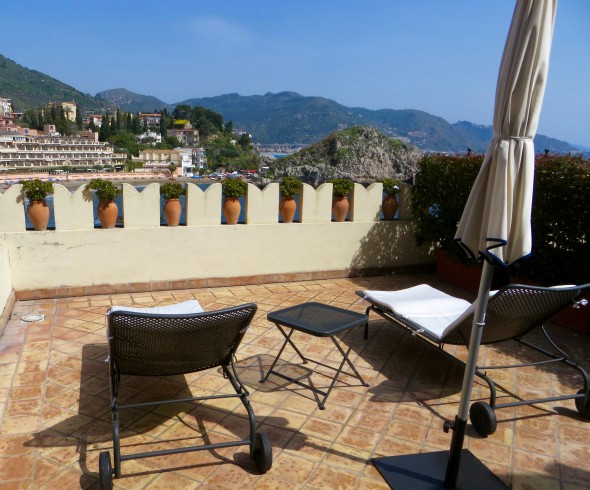 Further up the hill is one of my favourite hotels of all. I love flowers and the gardens are amazing – designed by the founder's wife. Red and white roses, contrasted sharply against the green of the shrubs and trees are an assault on the eyes as your electric buggy takes you steeply up to the garden reception from the car park below. And then when you get to the top, you have a view of the bay below and Mount Etna beyond.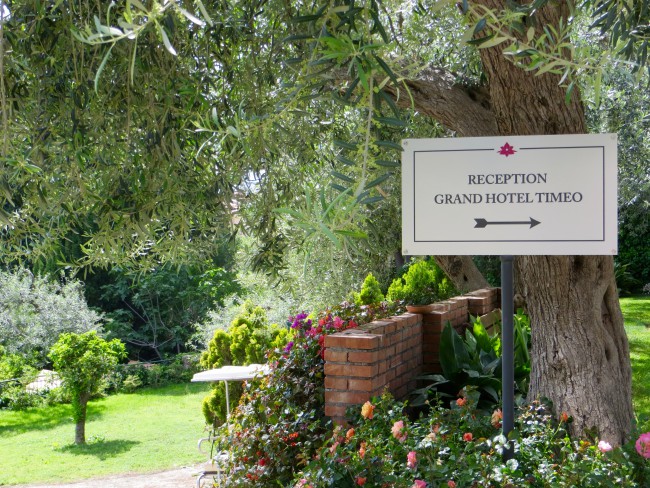 Grand Hotel Timeo is on a level with the aforementioned main street in Taormina and a few steps away from it.
Once you leave the busyness of the street, the hotel is a sanctuary. It's sedate, quiet, refined. Possibly slightly old-fashioned. Good.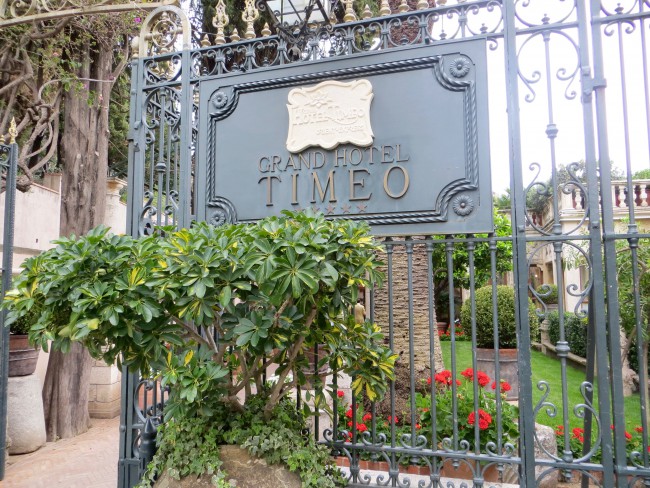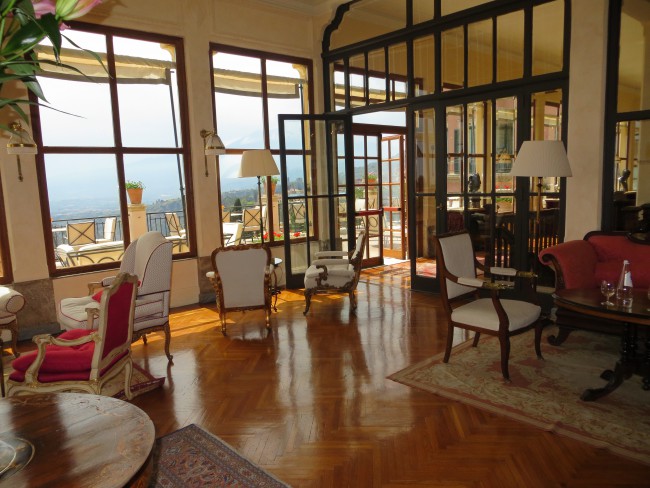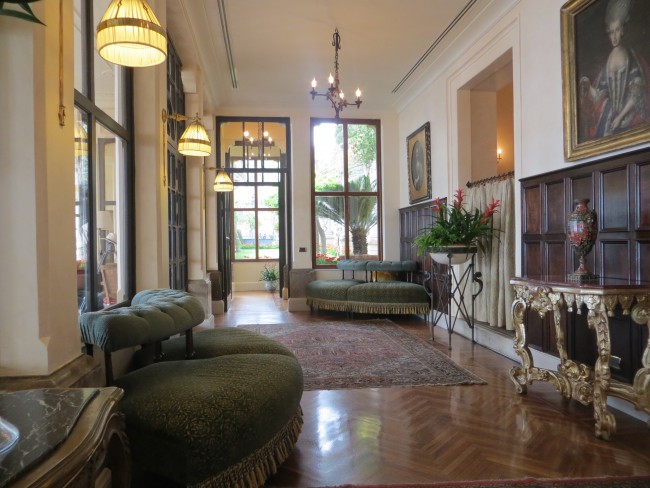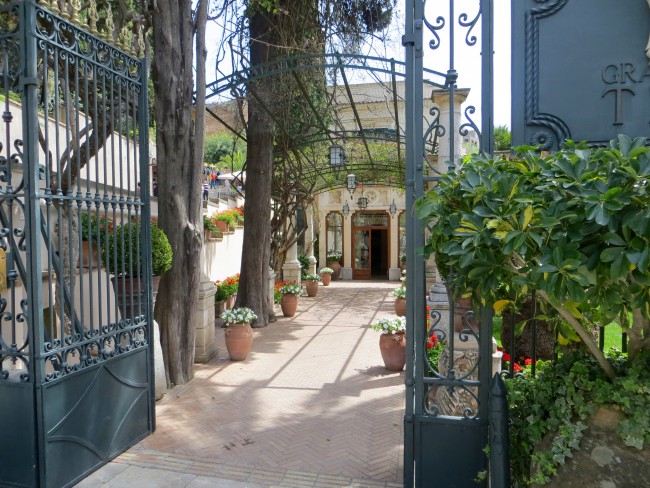 Our room was lovely, with views of the bay. The outdoor swimming pool was small, but no matter; I don't think you come here just to swim.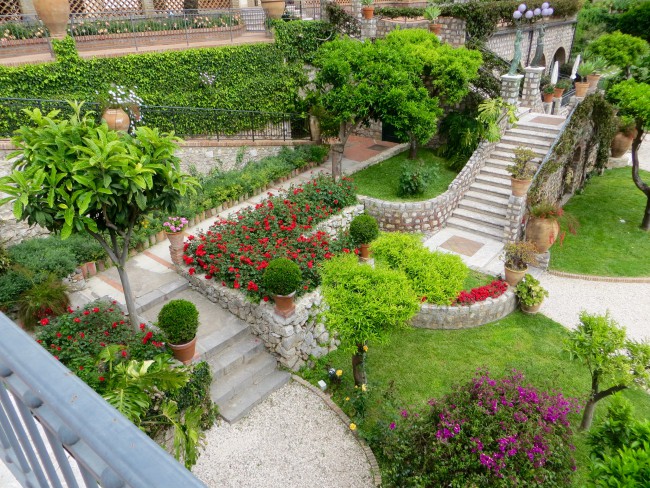 Sipping a cocktail on the terrace in the warmth of a summer evening, with Etna erupting and sending streams of red into the night sky is something I will remember forever.
I'll leave you with a few shots of Taormina. I can assure you, I haven't photoshopped any crowds out of the pictures.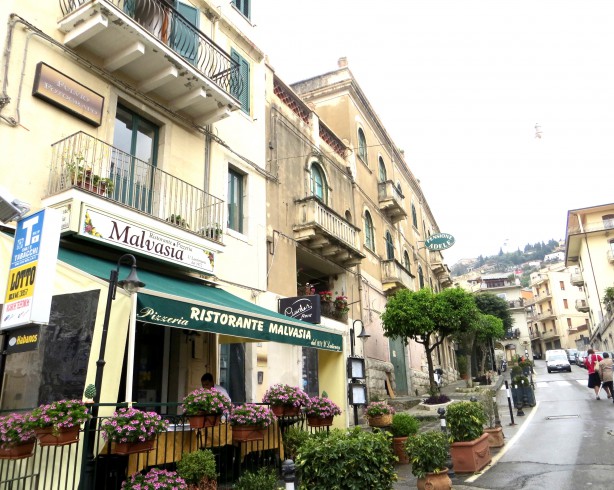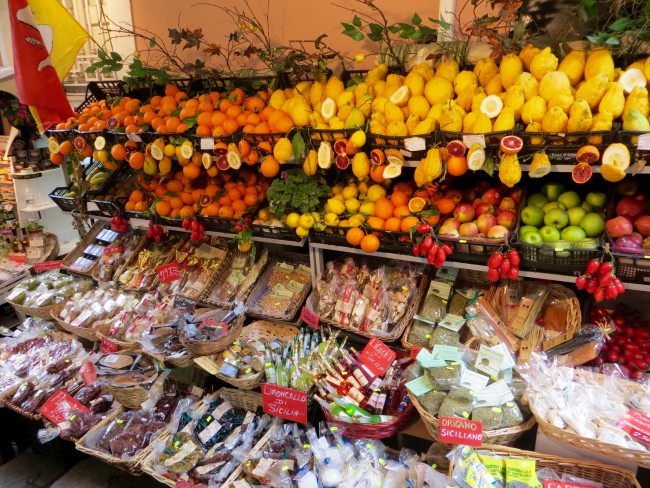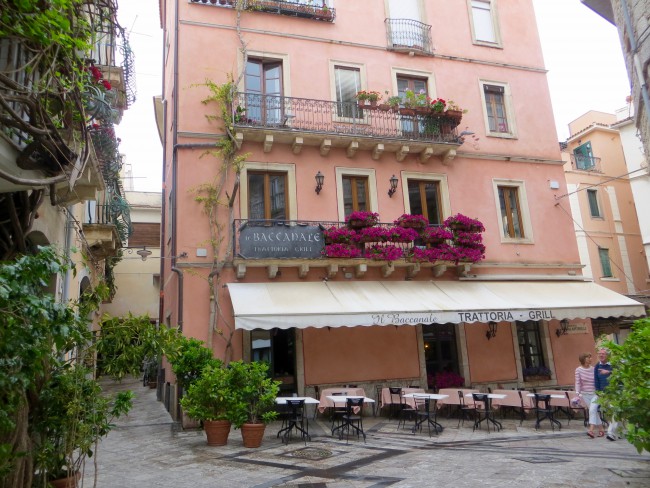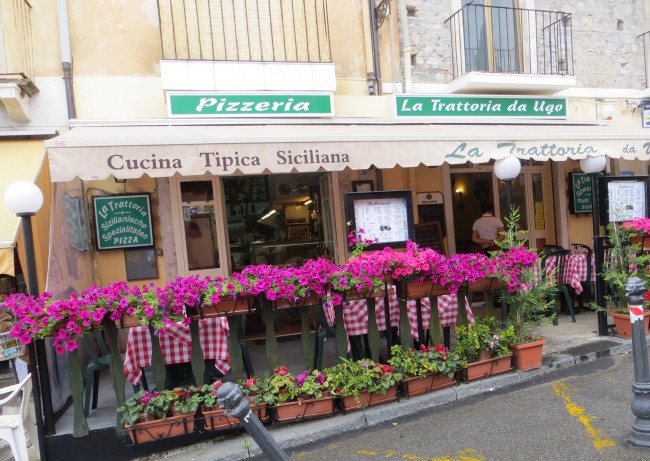 Disclosure:  We travelled from the UK in our own car. We enjoyed a press rate for our rooms but paid for our meals.  As usual, all my comments are my honest opinion. All images are taken by me and may not be used elsewhere without written permission.