Stop press: September 2017
I'm very sad to hear that the British Virgin Islands have been devastated by the recent hurricane.  I heard that the wonderful Bitter End yacht club has been flattened.  Luckily, no-one was hurt as the resort is closed and the few staff are all accounted for, according to their Facebook page. It will take a long time to rebuild the island, but when they do, I do hope to be back to write about this special place.
After six busy years of extensive travelling to many countries, this trip is up there with my most memorable. I got a commission from a national newspaper to write about sailing in the BVIs. I had never sailed in my life and was not even a good swimmer. So I had to go training on the Solent, in the UK, in early March.
It was my first time on the water as a newbie sailor. I learnt all the basics of sailing, about using ropes and water safety to gain my 'competent crew' certificate. Paul, my husband had previously trained as a day skipper. He had had to work for a minimum of five days at sea, sleep on a boat, learn about night sailing, compass plotting and generally how to be in charge of a boat on his own.
Quite a wind whips up on the open water there. As I struggled with the various ropes, my fingers icy cold, I kept thinking to myself that very soon, I'd be far away on calm pale blue sea (as opposed to grey or inky black), in a beautiful place (no offence, Portsmouth), with the sun on my back.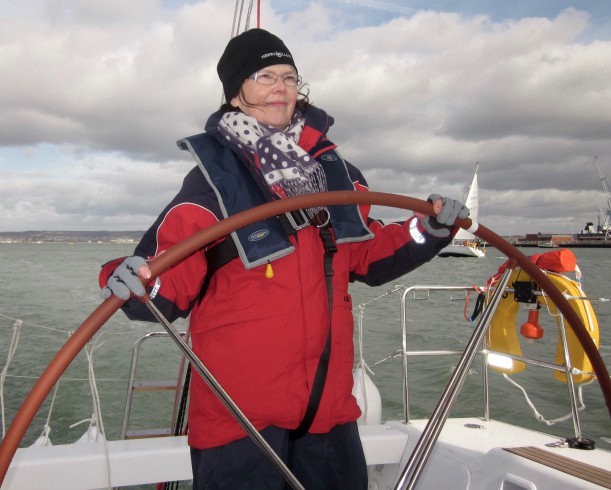 I've never been to the Caribbean and I hadn't imagined how beautiful it would be. It was like stepping into the pages of a holiday brochure or playing the lead in a very special movie. It was definitely a pinch myself moment.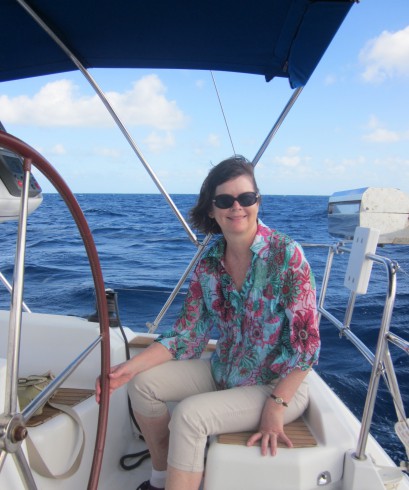 It's a fair old trek to the BVI via Antigua from the UK, but worth it. The British Virgin Islands consist of around 50 islands, some uninhabited, with the four larger ones being the most visited. The smaller ones are scattered around, including Richard Branson's Necker Island. If you have trouble switching off on holiday, this is the perfect cure. We both took our smart phones but they stayed in our suitcases for the whole trip. There's no signal anyway….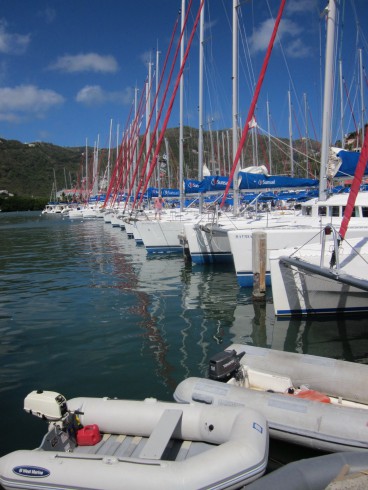 Despite the luxury yacht aspect, life on board is very simple. You just need crushable casual clothes, two or three swimsuits and trunks, flip-flops for when you are ashore and boat shoes for when you are on deck. Even applying make-up is difficult with the rocking of the boat, so after the first evening, I just didn't bother. Similarly leave your hairdryer and styling products, jewellery, stilettos and any expensive items at home.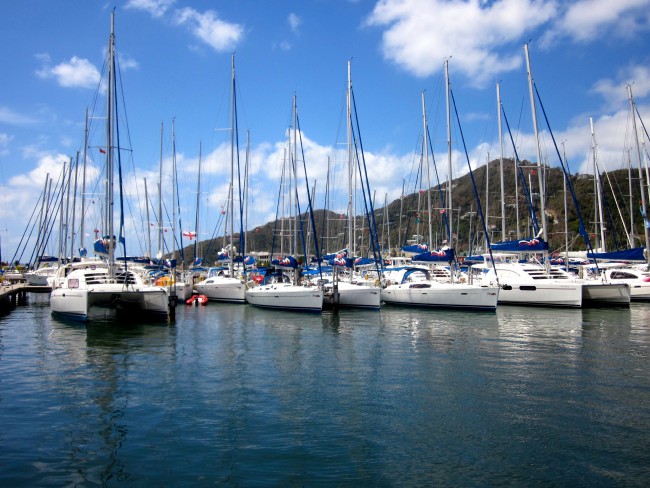 Food and drink supplies are bought at the supermarket before you start off on the first day and then a speedboat shop offers a top-up service with ice and other essentials, such as beer, during the week. Being below deck, the kitchen area is very warm, so simple salads and a quick breakfast were the most ambitious we managed. Eating out for veggies in the BVIs is quite difficult – they are islands after all and don't grow much themselves – but the fish is fabulous, as Paul will attest. And there aren't many places where a turtle will swim nonchalantly past while you are savouring your ice cream.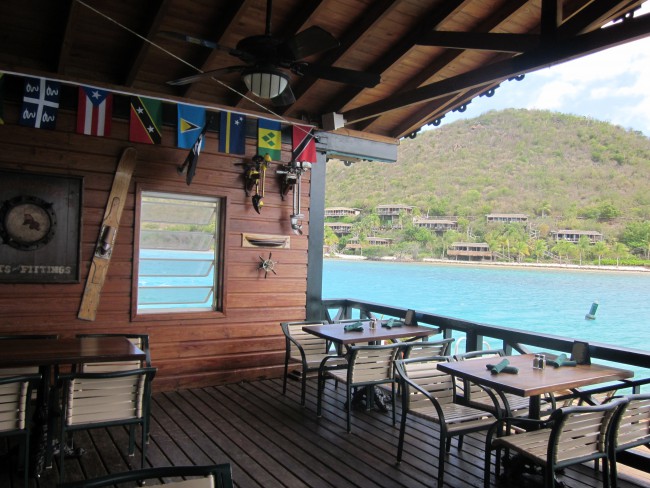 Apart from sailing, most activities revolve around the water: swimming, scuba diving, snorkeling, water-skiing and kite surfing. The water is generally calm and all sailing is line of sight i.e. you can see your destination. So it's easy peasy and at the same time terrific fun – light years away from the chilly Solent with its choppy waters.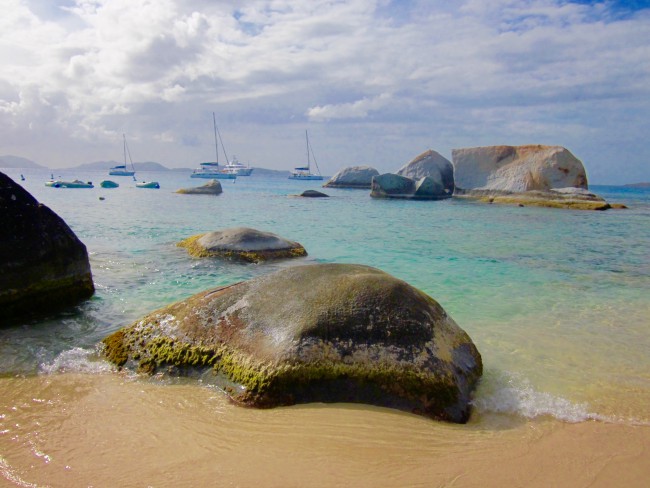 Ashore, apart from sampling all the rum concoctions in various bars, there are restaurants and cafes and a few souvenir shops especially at the main port on Tortola, St John. There are also a few freshwater pools if you want a change from swimming in the sea. We did cheat and stay in a couple of smart hotels, fancying a night in a room that didn't move. We especially liked the Bitter End. Rooms are luxuriously rustic with superb balconies overlooking the endless sea.
Access is only by boat – I've never rocked up to Reception in a dinghy before.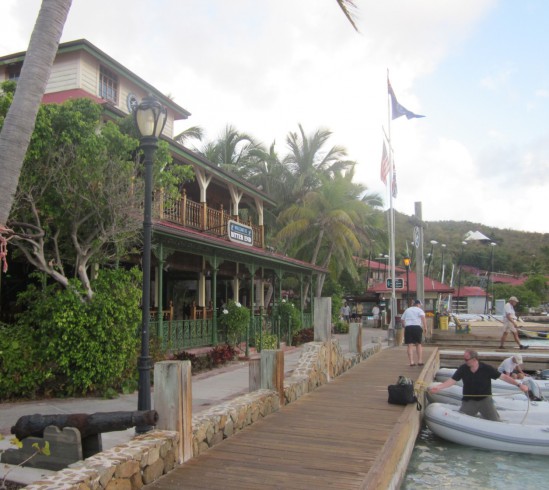 Being on a seven-boat flotilla, we had the best of both worlds. We were on our own during the day, but could call on the lead boat if we had problems (we had two-way radio). We all sailed the same route to different islands every day, but at our own pace.  In the evening – when there is no sailing and everyone has to be in harbour – we had ready-made friends from the other boats to enjoy a meal with and talk about our respective day on the water.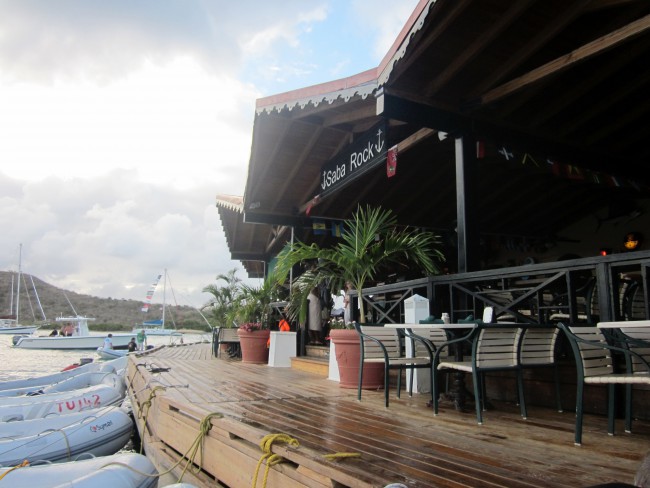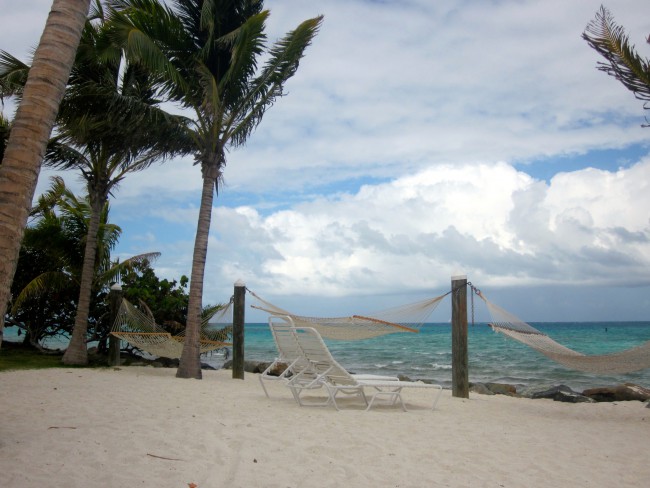 If you want a complete break, enjoy the sun and fancy trying your hand at sailing, I can't think of a better place to start. Beware, my new sailor friends tell me it's addictive; they go every year.
Summary
BVI highlights: Stunning unspoilt scenery, escape the crowds, pleasant sunny weather, easy sailing, an opportunity to switch off.
Possible downsides: All activities are water based, so you need to enjoy that aspect.
I'll leave you with my favourite picture…
Disclosure:
Trip hosted and organised by Sunsail, who were brilliant.