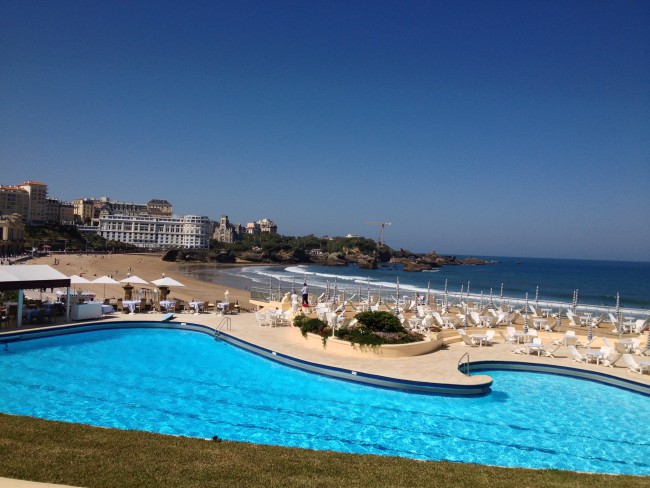 Hotel du Palais is set on the seafront with golden beach and has been famous since the 1930s. It was originally a summer palace for Empress Eugenie and built in 1855.
Eugenie was the wife of Napolean lll, nephew of Napoleon Bonaparte. He married Eugenie to get an heir, which she did eventually produce, but the birth was difficult, endangering both her life and that of the child.
Biarritz is near the Spanish border and it was hoped this fact would ease the homesickness the young Spanish Eugenie might be feeling.
The hotel was devastated by fire in 1903, after which more floors were added and the semi-circular salon overlooking the sea was built. The hotel went bankrupt in the 1950s and was eventually bought by the city.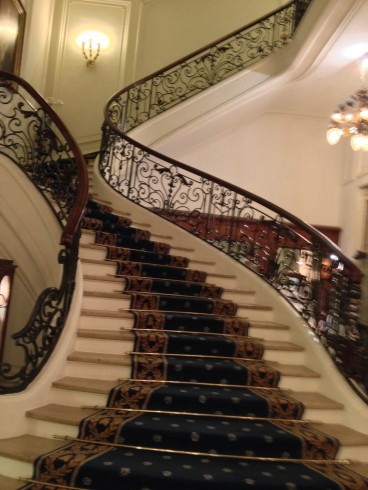 Build right on the beach, an historic wrought iron gate leads directly onto it from the hotel grounds. As well as a large salt water pool, there is a grassy children's playground, sundeck and both an alfresco and indoor restaurant. Inside, there's a heated pool and Guerlain spa.
Restored to its former glory, the hotel has an elegant feel. The vehicular entrance is through manned gates up to a portico. From here, one wafts into the large reception hall with huge marble columns, wooden central concierge/reception desk and a plethora of antique rugs and antiques. The aforementioned salon overlooking the sea has a small restaurant leading off, which has the Michelin star.
Hotel keys are in satisfyingly heavy brass with attached yellow silk tassels – so much nicer than those credit card sized bits of plastic.
We were fortunate to have the Gary Cooper Suite on the first floor – room 32. From the hallway was a wardrobe area with room for all our luggage. It's so nice to be able to keep suitcases out of the bedroom and lounge area.
The salon had floor to ceiling windows with french doors opening onto an uninterrupted view of the beach. Two high back traditional sofas were positioned one side of an archway that led to the bedroom area. Silk curtains either side of the archway meant this area could be kept separate. Again, there were french doors leading onto a narrow verandah with that superb beach view.
The large bathroom had plenty of natural light; it remains one of the best I've seen. Other pluses were a towelling stool and a quality hairdryer (light, powerful, near a mirror and plug). The shower and deep bath both had grab rails. I loved sitting on the little seat and looking out over the beach after my shower.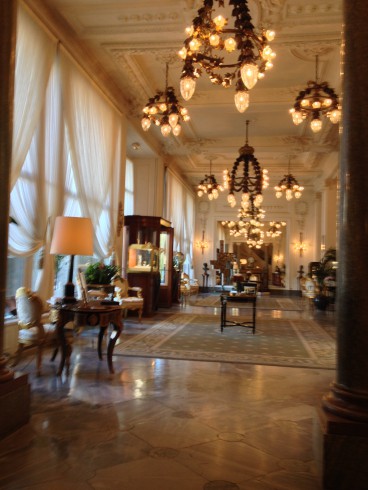 It was fantastic to sleep with the windows open and hear the waves crashing below, our restful nights no doubt helped by the comfortable bed.
We had a late snack as lunch time had passed. My toasted sandwiches were expensive but delicious. Later on, we enjoyed an excellent cocktail, listening to the pianist. The place was fairly busy and obviously the place to seen, attracting a predominantly older clientele.
There are plenty of places to eat outside the hotel, however, as Biarritz itself is only a short level stroll away. With beach walk along the promenade, casino, good shops, Saturday produce market and bars, it's the perfect size for a weekend mooch.
Breakfast is served inside in the salon area, with view to the sea. There is a huge choice of food from hot to cold including sliced roast beef and varieties of smoked fish. An extensive charcuterie selection was matched by the cheeseboard. Hot options included bacon, sausage, eggs and sauteed potatoes. Bread, fruit, yoghurt…there was a large selection of everything.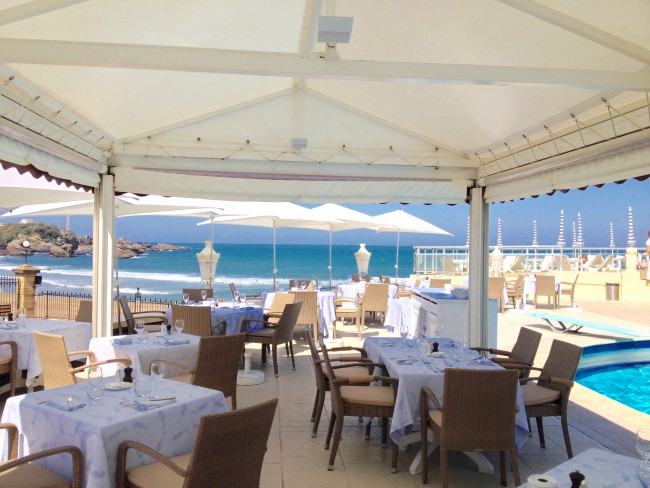 We loved our room but if all the silk and flounces is too feminine, you may want to consider the Hemingway suite, for example, with masculine nautical theme, porthole window and its own bar.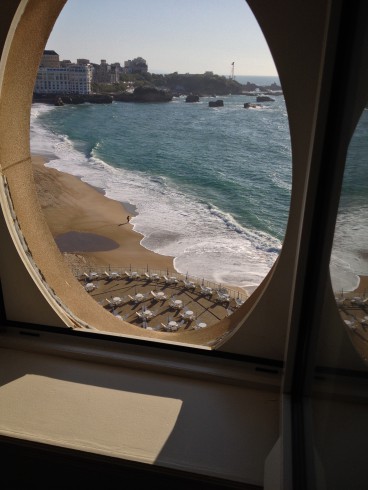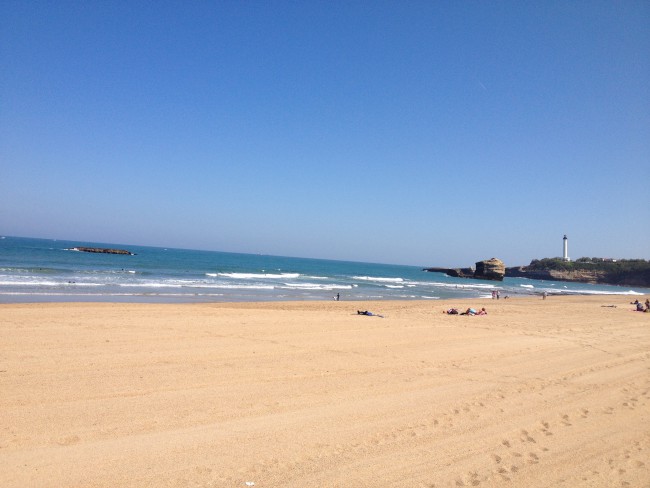 This hotel is great place to stay, especially if you want a beach nearby. It's no wonder repeat visitors top 70%. However, it won't be to everyone's taste – it's definitely traditional, possibly a bit staid. But I loved it.
Walking along the beach later, I hoped wistfully that Eugenie and her child were able to enjoy a few happy times here. I know I did.
How to do it.
British Airways flies direct to Biarritz from London Heathrow at convenient times. There is also a flight from Southampton, an airport I recommend highly. Take a taxi to the hotel, (around ten minutes) or pick up a hire car from the airport if you are planning a driving tour. With a flight time of under two hours, Biarritz is a compelling choice for a short break.
Disclosure: We had a discounted rate for our room. We paid for all our meals and travel expenses. Our cocktails were a surprise treat from the hotel. As always, views are my own as are the (sometimes out of focus) images.