Spain? Are you Kidding?
The British have a love affair with Spain with 14 million of us going there every year. It started in the '70s with cheap flights and package holidays and it's where I spent my honeymoon, drinking sangria and buying cheap donkey souvenirs.
Of course, times have changed. We still all love Spain but our tastes are a touch more sophisticated. Yet there is still a little snobbery attached to going to Spain. It's seen by some as still only attracting the TOWIE crowd. Silver Spain kicks this misconception right out of the box.  It is possible to have a luxury break – that doesn't involve a self-catering villa – if you know where to go and what to do.
Most people fly to Malaga and then transfer to somewhere else. I discovered what a wonderful town Malaga itself is a few years ago. But I didn't know what else was in the countryside  surrounding it.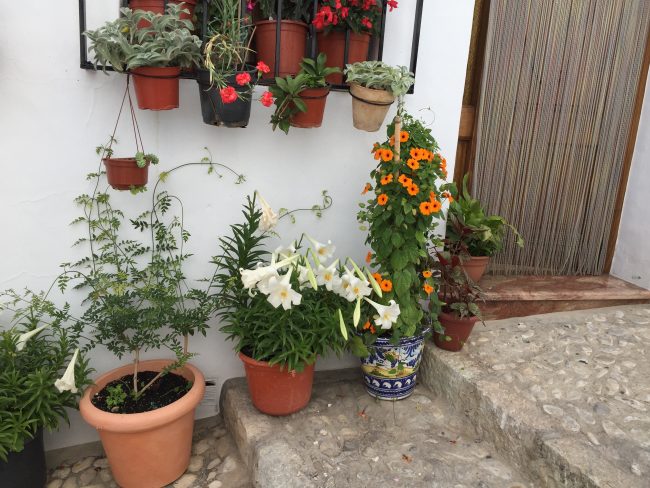 Silver Spain holidays
Cue Silver Spain. A new company, they are organising Silver Weeks from October 2107, offering all-inclusive cultural activity weeks for people over 55 in Costa del Sol. There are four different pillars to their offering – Healthy Body, Healthy Eating, Healthy Mind and Healthy Relationships. It's an opportunity to make friends and try something different. I was invited on the taster trip to try it out.  We tried a few activities from each holiday. I'm mentioning the highlights.
For our taster week, we stayed at two hotels, but normally, there would just be one.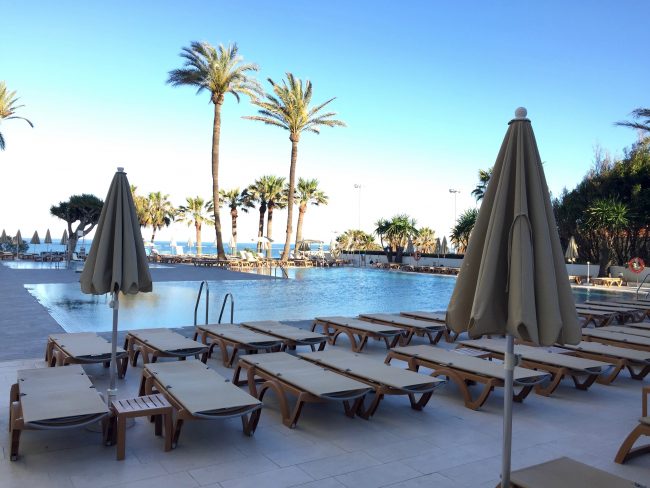 Our first stop was at coastal Benalmedana where we checked into our hotel, the Hydros. It was on an 'estate of hotels', our hotel being the smallest and boutique in style. With views of the sea and a hot tub on the balcony, it was pleasant enough, but a bit too modern for me. It had a large terrace with pool and uninterrupted sea views.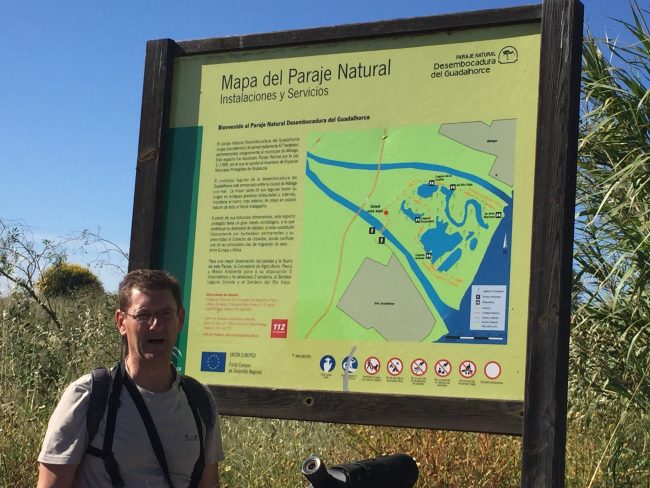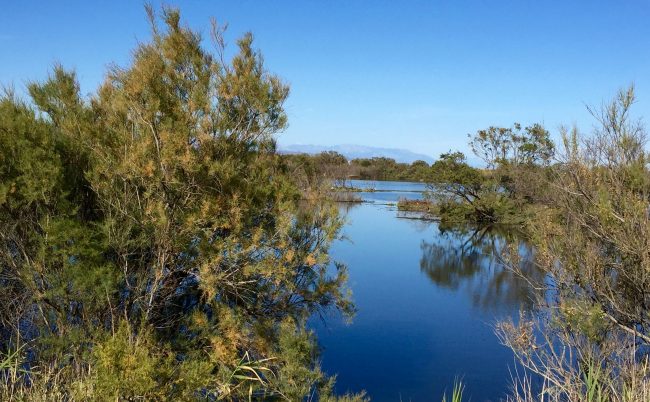 Bird watching just outside Malaga
Our first trip was to the mouth of the Guadalhorce River, just outside Malaga. A nature reserve rich in bird life, it was established in 1989. With easy level walking, our birding guide showed us a white-headed duck, a species that was almost extinct in the 1970s, a hoopoe, black-ringed stilt, bee-eater, and when we stopped at a viewing point over the river, terrapins.
We could also hear a nightingale singing.
With a mixture of sweet and salt water, the reserve attracts both seabirds and waterfowl. It was a wonderful experience, so near the town, and one most people would not know about.
Light Exercise
The next morning, we had an exercise session on the terrace overlooking the sea. The sun was not yet strong and there was a pleasant breeze. I'm not good at exercising, and no one would mistake me for a gym bunny, but there's a lot to like about being outside with the turquoise sea to admire instead of feeling trapped in a gym.
Afterwards, we had a delicious, freshly made smoothie that will be the feature of Silver Spain trips.
I felt I deserved a big lunch; veggie options throughout were tasty.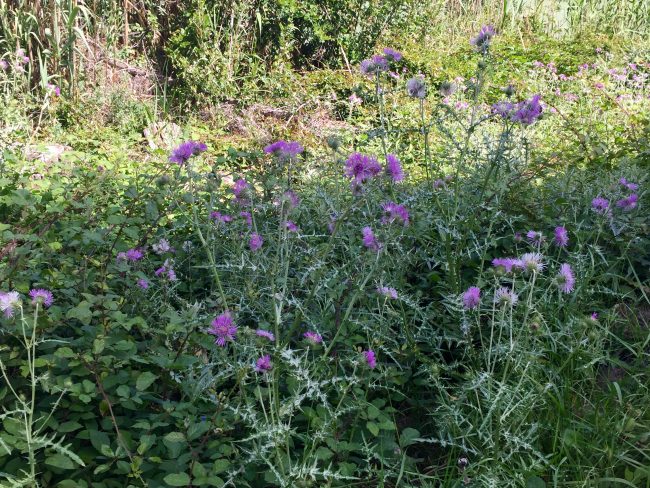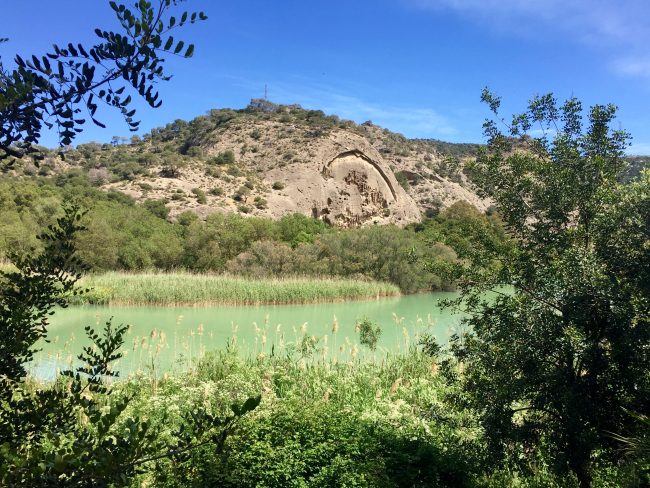 A hike in the countryside
Next, we went on a lovely walk at Los Gaitanes Gorge. It's a natural park located about 60km from the city, upstream from the nature reserve we visited when we first arrived.
We took a gentle trail alongside the water, shaded by trees and awash with summer flowers in the patches of sunlight on the open ground.
There is rock climbing and more challenging hiking along the famous Caminito del Ray, but I was happy to pootle along the pretty level tree-shaded paths with glimpses of the water and occasionally interesting rock structures.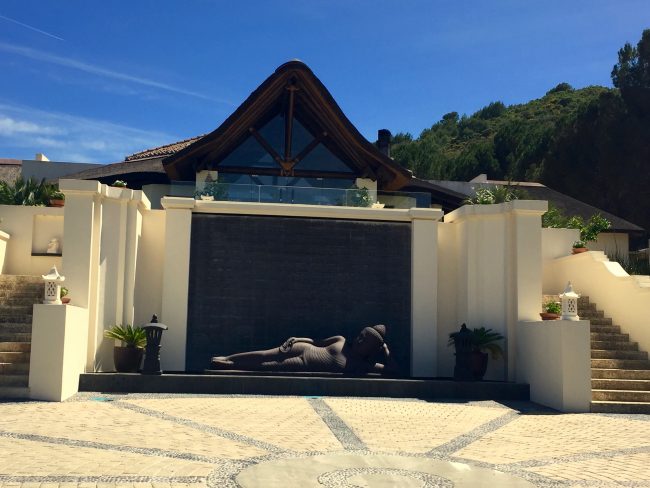 Mindfulness session
Later on, we went to Shanti Som and had a mindfulness session. I've not done this for a while – ­not since I was on a retreat in India – but it was really nice to have another go. I always find it best to be open to new things as you never know where they may take you.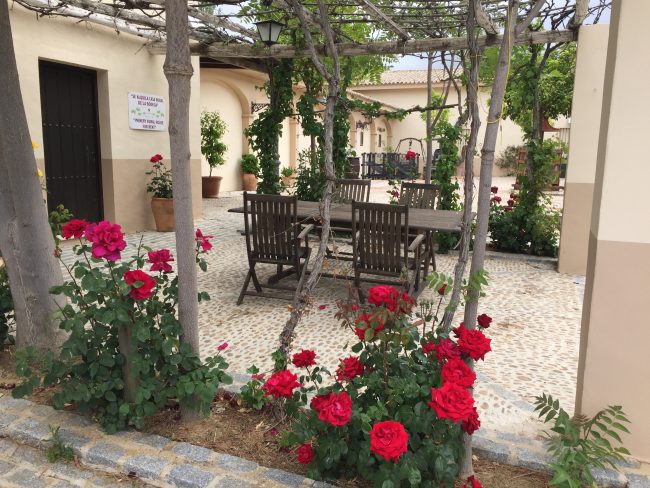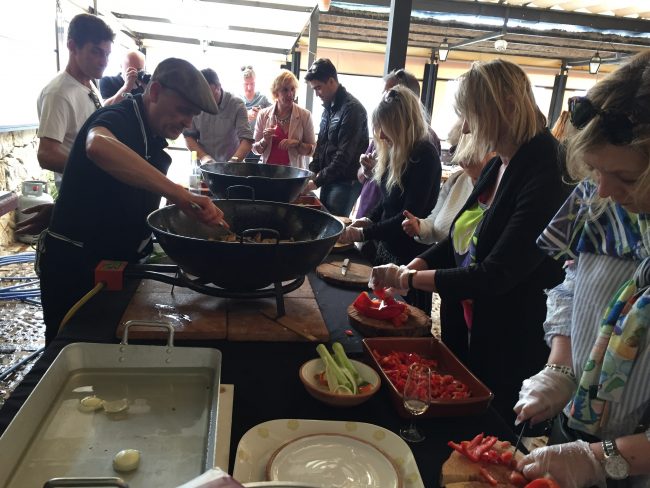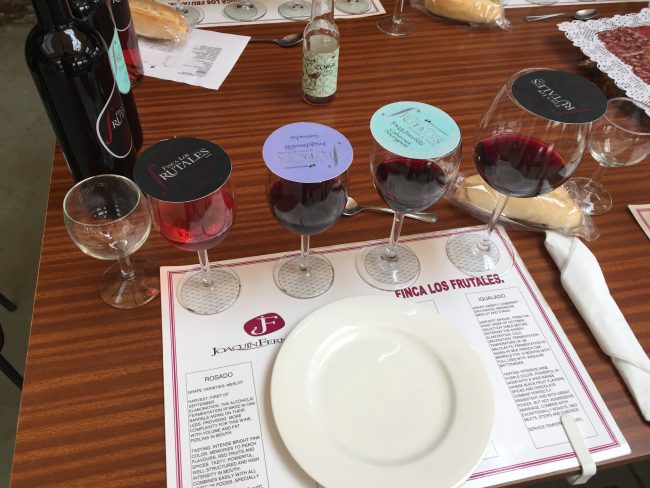 A vineyard visit, wine tasting and paella making
Next day, we went to a vineyard. Unusually, it was raining, so we skipped the tour and went straight to the wine tasting and paella making.
We all helped chopping the vegetables which were then added to what looked like Desperate Dan's frying pan.
It certainly contained enough paella for thirty hungry people. I especially enjoyed the wine tasting, a prelude to the convivial meal to follow. We had five varieties of wine in front of us, with the description of each on a drinks mat placed on top of the glass. The younger ones were tried first and we even sipped a white wine made with red grapes.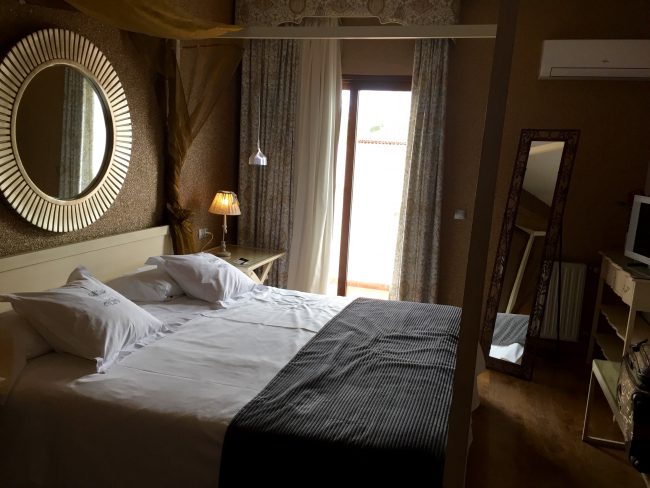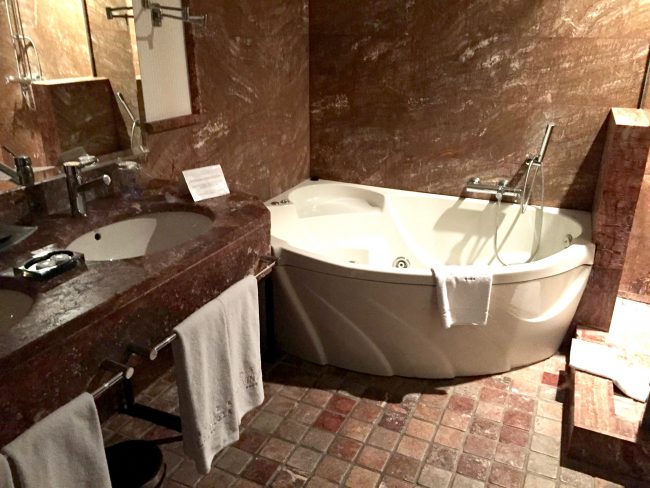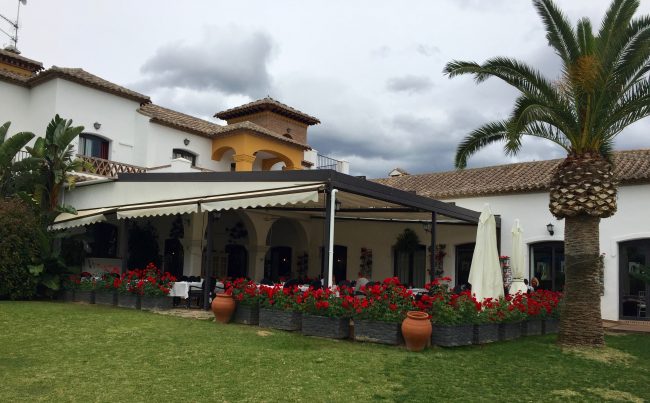 A hotel in the hills
We then transferred to our second hotel, traditional Spanish in style. I could have just moved in here to stay. It was just my style, perhaps a tiny bit dated, but I'd call that charming. La Vinuela is set inland by a lake in Axarquia and has a lovely garden and pretty grounds, with a geranium lined terrace. Part of a small chain, I'd definitely recommend it.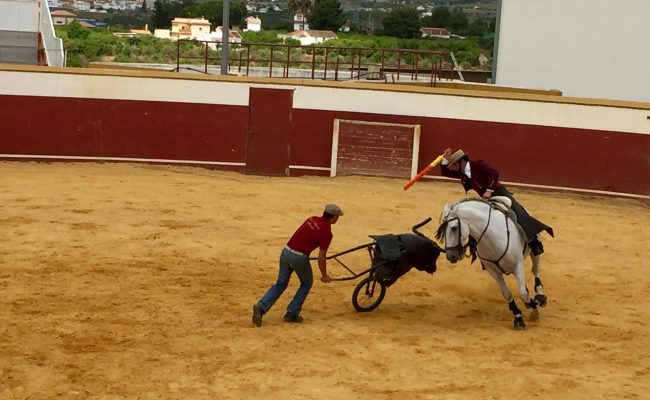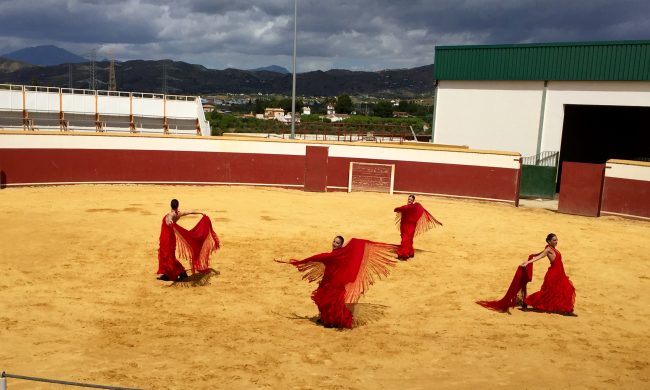 A Spanish treat – horsemanship and flamenco
Day four was the highlight of the trip to me. Hacienda la Esperanza is a ranch where specially trained horses in full dressage performed a show for us. A skilled rider cleverly out-manoeuvered a fake 'bull' and then the horses performed sychronised movements with delightful young flamenco dancers, all set to music. When the music ended, we all jumped up and applauded. Not very British really…so an indication of how good it was.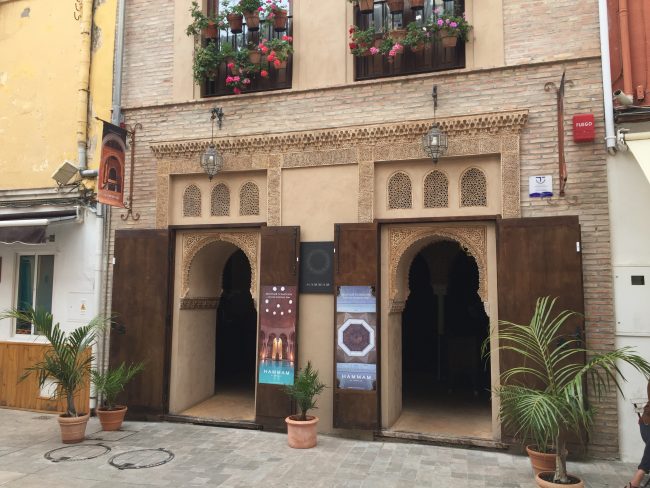 Hammam and tapas
Later on, we tried the hammam baths in Malaga. They are quite dimly lit, so if you wear glasses, it's challenging as the floor is also a bit slippery. They also have a 'be quiet' policy, a bit like being in a library. So our girly gossiping in the large bath was stamped out pretty smartish.   But the back massage I had was divine.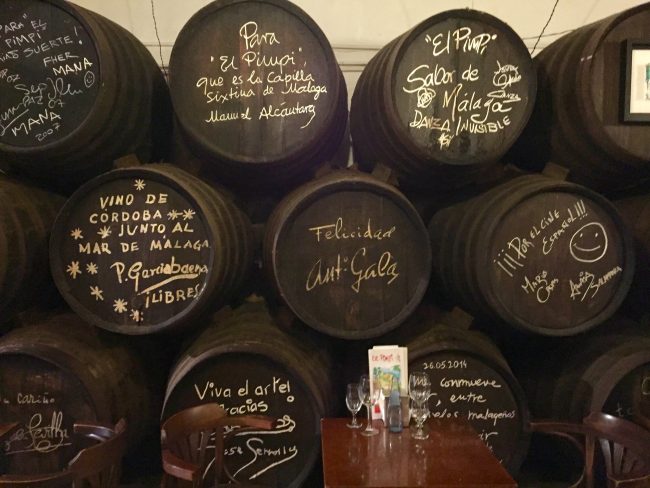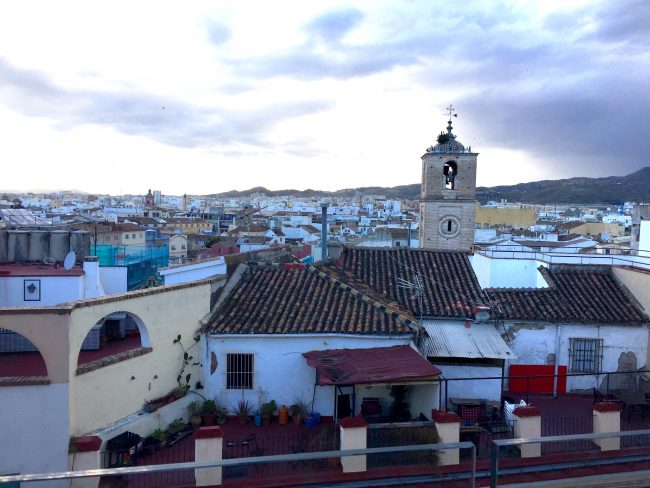 After this , we went on a tapas tour of the city. I've had tapas in Malaga before, but it's much better when you are taken to the best places by a local guide – as we were – and the best food and drinks are suggested. We ended our evening with a sun-downer, overlooking the rooftops.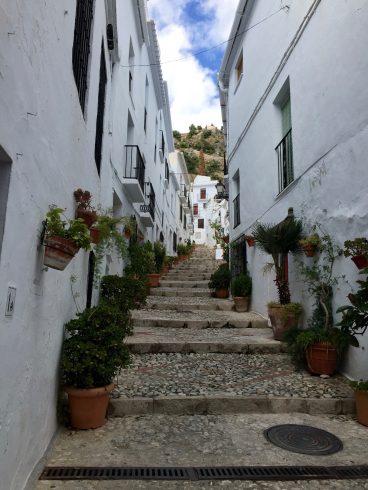 White-washed village tour
On the way to the airport, we stopped at the white-washed village of Frigiliana and had a wander and a coffee. It was a fitting end to a superb five day tour.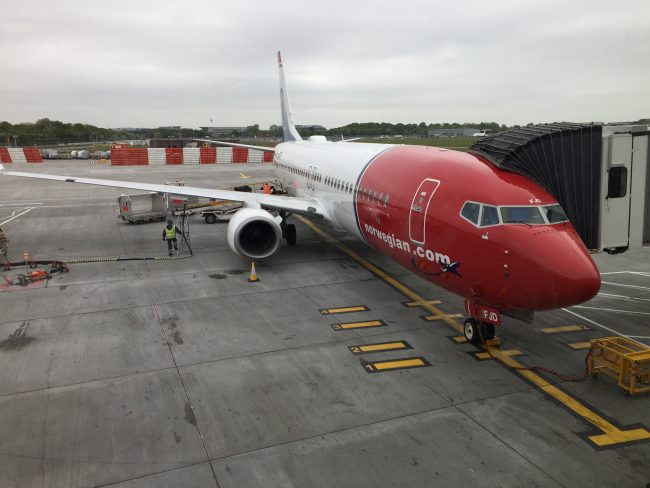 Silver Spain holidays start in October 2017 and include day flights from Heathrow. We flew with Norwegian, who were very good.
Disclosure: A fully hosted trip.  As usual, I have expressed my opinions freely. I'd love you to comment but I've turned comments off due to excessive spamming.  So just drop me a line or tweet me.